Goodwood Ship Management Set For Growth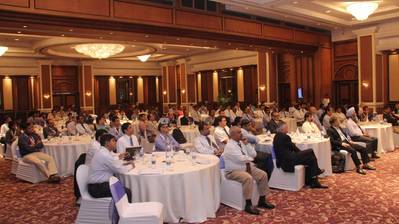 Goodwood Ship Management, the Singapore based management company, is set to increase its fleet under management to more than 10 million deadweight tonnes, the company's annual officers' conference heard this week.

Capt Ashok Sabnis, Goodwood Managing Director, told more than 150 senior officers at the Mumbai event that the management company was gearing up to take on technical management of more tankers.

"By the middle of 2016 our managed fleet will rise to around 50 vessels with many of these being larger tankers in the Very Large Crude Carrier (VLCC) category.

"Since our conference last year our managed fleet has grown. Presently we have under our care VLCCs, Suezmaxes, Aframaxes and chemical carriers as well as some container vessels.

"With the induction of newbuilding VLCCs and MR tankers and containerships over the next 16 months, we will be operating more than 10 million dwt – this will make us one of the biggest operators of VLCCs in the ship management industry," he told the officers.

In his keynote address, Capt Sabnis noted that Goodwood's continued growth came despite the on-going challenges faced by the global shipping industry.

Fuel prices, regulations and climate change issues as well as a prolonged economic recession were just a few of the challenges now faced by managers and their principals.

"Although it is early to say with confidence, the industry is showing the first signs of economic recovery after five years of reduced demand and oversupply of tonnage.

"These periods have put pressure on owners and operators who have also been faced with implementing a number of legislative and operational changes such as low sulphur fuel, carbon efficiency, ECDIS and the MLC convention," he added.

He told officers he believed strongly there was a continuing and expanding role in the industry for professional, global standard independent managers able to operate vessels safety and cost effectively for owners.

The ability to deliver this core service to owners lay in continued investment in seafarers, ensuring they are sufficiently trained to meet global standards.

"I am pleased to say our Cadet Training Programme continues with greater emphasis. So far this year we have inducted 40 new deck and engine cadets and we have a total of 135 deck, engine and electrical cadets in the system now. So far in 2014 some 35 cadets have completed their training programme and are now preparing for competency exams," he said.

The quality of training and level of investment into training meant Goodwood was one of the highly accredited third ship managers.

"Our accreditations now include the ISO 50001 certification by the American Bureau of Shipping (ABS) and this was renewed just a few weeks ago. We are the only ship manager in the Middle East and Asia Pacific to be certified with this accreditation," he added.

The Goodwood Officers Conference is now in its fourth year and brings together some of the company's 400 Senior and Junior officers who mingled with group principals also attending the three day event.