AVEVA Releases AVEVA Space Management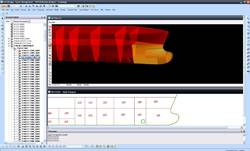 Simplify complex ship designs through the managed subdivision of ship spaces and automatic layout drawings
AVEVA (LSE:AVV) released AVEVA Space Management 12.1, which is part of the AVEVA Marine portfolio. AVEVA Space Management automatically creates and manages layout drawings that document the subdivision of the ship into spaces with their functional design properties. It reduces risk in the design of more complex ships such as cruise ships, naval surface vessels, submarines, ferries and offshore supply vessels. AVEVA Space Management generates a full ship wide, room-oriented functional definition of the ship design, which can be reused in other design disciplines. As the design evolves decisions regarding the shape and functional properties of spaces are recorded and refined in AVEVA Space Management. It supports design decision making for spaces at the whole ship level. This means that the interrelationships between the functional needs of adjacent spaces can be easily handled to ensure that the overall ship design is safe, complies with regulations and is cost efficient.
AVEVA Space Management can handle a wide range of space design properties such as:
· Heat output
· SOLAS classification numbers
· Insulation for decks and bulkheads
· Paint coverings for space boundaries
· Floor coverings
The design properties are recorded in the 3D model of the ship and can also be documented in automatically created General Arrangement based drawings for use by other design disciplines. Direct access to the 3D model and the General Arrangement based drawings ensures that whole ship design decisions are efficiently communicated for improved coordination of design work in each discipline reducing lead times and improving quality. "AVEVA Space Management is a new tool for space design decisions which reduces potential project-risk by enabling a 'what if' approach" within the design process", said Stéphane Neuvéglise, Head of Business Management – Marine Systems, AVEVA. "It facilitates advanced functional design optimisation by using an early 3D space model of the whole ship, allowing many more options to be considered in the available design time. In parallel, it automatically creates General Arrangement-based drawings typically used to record space design decisions. Designers can then focus on design decisions rather than the creation of drawings that document the decisions. This is particularly important on complex designs that require multiple design iterations that create many General Arrangement drawing revisions in order to reach an acceptable design".
Finally AVEVA Space Management can also be used to optimise hull production costs as different build strategy options can be analysed to develop the optimum work breakdown structure for fabrication and installation.
www.aveva.com/marine