Langh Ship Elects New Managing Director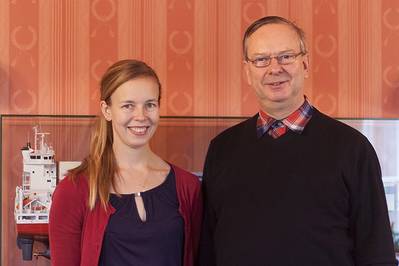 Oy Langh Ship Ab will receive a new managing director at the turn of the year, when the current managing director, Hans Langh, takes over as Chairman of the Board for the shipping company. Laura Langh-Lagerlöf has been elected as the company's new managing director, effective January 1, 2015.

The shipping company's current Chairman of the Board, Tom Niemi (MSc Tech, chemical engineering), thanks Hans Langh for his more than 30 years of leadership with the company: "Hans has successfully steered the company through many storms. His innovative and energetic approach has been the driving force behind the company. We are pleased that Hans will continue to have a role in the company's operations." Niemi stresses that the change will not affect the company's nature as a family business: "Laura possesses the same problem-solving skills as her father, and we believe she will steer the company well through any future challenges."

Laura Langh-Lagerlöf, 33, sees the change as a natural transition: "I'm a born-and-bred entrepreneur. When my father bought the first ship that he owned outright in 1983, I was on the ship with him to see it happen. I believe that shipping will always be important, and I am thrilled at the opportunity to take the company forward."

Hans Langh, 65, will stay on with the company as an adviser: "Laura has essentially been part of running the company for a long time already, but now she will be assuming the full responsibility of managing director. My focus now will be on introducing scrubbers in ships." All of Langh Ship's five vessels have been fitted with the company's in-house-designed scrubber; the first as a product development project and the four others by DeltaLangh, a joint venture company established with Deltamarin.

The shipping company has five multipurpose vessels, three of which are used to transport Outokumpu's steel products and two for the container-shipping services of Containerships Ltd. The company additionally has roughly 1,000 in-house-designed special containers, mostly for transporting steel.

The Langh sisters – Laura and Linda – are now both managing directors in the family-run business. Linda Langh, 31, became managing director of another of the family's businesses, Industrial and Ship Cleaning Services Hans Langh, in 2011. Hans Langh established the cleaning company, which takes on demanding cleaning assignments in the shipping, industrial and construction industries, in 1973.

At the age of 15, Hans took on the responsibility of managing the family farm and completed the construction of an unfinished grain drying facility; he thus has 50 years of experience as an employer under his belt.