Coco Vroon Steps Down as Managing Director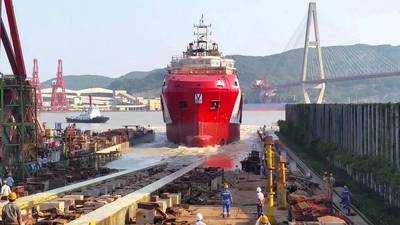 Coco Vroon is stepping down as CEO of Netherlands based shipowner Vroon Group, after having settled a credit agreement with the company's lenders.
"Now that agreement has been reached with our Lenders in respect of the main terms of the financial-restructuring plans of Vroon Group, after long deliberation Coco Vroon has decided to step down as Managing Director of the Company," said a statement from the company.
As shareholder, the new phase being entered by the Company affords him the opportunity to devote more time to the long-term development of the Company.
Coco will leave his position per end-April 2018. He will remain closely involved and aims to continue creating value for the Group.
Herman Marks, who has worked with the Company for many years, latterly in the role of CFO (Chief Financial Officer), will assume Coco's role. As CEO (Chief Executive Officer), Herman will lead the restructuring process. Jan-Piet Baars and Rob Grool will remain in their positions as Commercial Director and Director Fleet Management, respectively. A new CFO will be sought to complete the Board of Directors.
Coco Vroon said: "I am happy we have reached the next phase in the restructuring process of this fantastic company. Shipping markets are improving after a very tough period, although there is still a lot of work to be done. I am certain I am leaving the Group in excellent hands."
Con Schoenmakers, Chairman of the Vroon Group Supervisory Board said: "As Supervisory Board we are grateful for Coco's contributions to the development of the Company during his many years as CEO. We respect his decision to devote more attention to his role as shareholder during this new phase. The Board wishes Herman and his team much success in leading the organisation to a healthy long-term future."