CMA CGM Marco Polo Fitted with Fugro Maneuvering System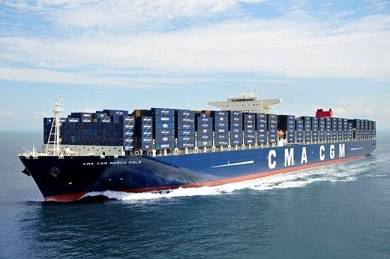 Fugro Seastar AS announced that CMA CGM Marco Polo has been fitted with Marinestar maneuvering system to assist in berthing and navigation.

The satellite aided navigation technology is based on composite GPS and GLONASS constellations and measures precise speeds at the bow and the stern together with quay distances to assist the vessel safely to the berth. The Marinestar system provides speed and heading information to a higher level of accuracy than conventional navigational aids such as doppler log and gyro compass.

On behalf of CMA Ships, Mr. William Biegun, Navigation and Communication Engineer, said, "Feedback from our Captains was that maneuvering giant container ships in confined port areas, required advanced positioning systems. The Marinestar system fulfills such requirements, through the installation of two additional GNSS receivers. The distances to the quayside information is displayed on the bridge wing consoles for safer and more efficient berthing. We appreciated the quality installation performed by Fugro and their involvement to adapt the Marinestar system to the specific container ship's operations. Potential fuel savings can be expected from real-time trim management offered by the Marinestar system and this is right now under assessment by our Energy Department".

Managing Director Arne Norum commented, ''Maneuvering and berthing large ships in confined port areas has always been difficult. This problem grows as ships become ever larger but ports do not, leaving more mass to maneuver in relatively little space. We are convinced that the accuracy of Marinestar will assist the captains and officers in their assessment of speeds and exact distance to the docking position. Marinestar has been in use onboard the cruise vessels and tankers and we are now pleased that CMA Ships has chosen the Marinestar system to be installed on their largest container vessels."

In addition to its navigation and berthing functions, Marinestar Maneuvering System is able to measure vessel trim fore and aft trim dynamically whilst underway at sea. In addition to the 16,000 TEU CMA CGM Marco Polo and the two sister vessels CMA CGM Jules Verne and CMA CGM Alexander Humboldt, the system is being installed on five other 13,800 TEU vessels in the CMA CGM fleet.