MarAd Insights: "In peace and war" -- Even Against a Virus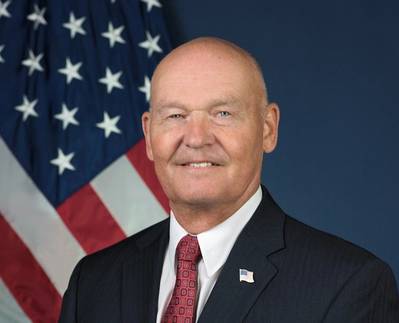 The U.S. maritime industry takes great pride in our motto: "In Peace and War." It sums what we're all about. From colonial times, through the Revolution, the Civil War, two World Wars, several regional conflicts, and many natural and humanitarian disasters, we got the cargo delivered because our economic security and our national security depend on it.
Today, we confront a new kind of enemy: an invisible, debilitating, and too often deadly disease. Yet, just as the courageous merchant mariners of World War II developed strategies that reduced risk—such as convoys and radio silence—to guard against U-boats, our industry and today's volunteer mariners are finding ways to stay safe while keep our supply chain going.
At the Maritime Administration (MARAD), we've been doing our part, too. We're engaged with all our stakeholders to identify challenges and solutions while we face a crisis like no other in recent history. We ensured that mariners, port operators and longshoremen, and shipyard workers were designated by the Department of Homeland Security as Critical Infrastructure Workers, so they could keep critical supply lines moving.
Our engagement led to the development and sharing of best practices for safe crew rotations, streamlined passport renewals so mariners can keep sailing overseas, and procedures that are helping maintain the readiness of our government-owned surge sealift fleet, the Ready Reserve Force (RRF).
We also worked closely with the U.S. Merchant Marine Academy (USMMA) and the state maritime academies so cadets could continue their courses online, take their U.S. Coast Guard exams, and take the final steps toward careers at sea. Federal funding is helping all the academies safely prepare the next generation of mariners to support the Nation.
All the while, we've made sure that MARAD is fully crewed and that the daily work that the industry relies on, including U.S. Maritime Alerts and Advisories on global maritime security threats, continues to keep those at sea and ashore safe from possible dangers.
We're keeping our eyes on the horizon, too—even while battling COVID-19—to stay on course with our mission here at MARAD: to grow U.S.-flag shipping, modernize our ports, support our essential shipyard and repair facilities, make better use of our inland waterways, and to do all we can to help America's maritime industry continue to fuel America's economy.
Just before COVID-19 reached our shores, we had the pleasure of announcing that our vessel construction manager TOTE Services had selected Philly Shipyard, Inc. of Philadelphia, Pennsylvania to build the National Security Multi-Mission Vessel (NSMV) replacement for our aging school ship fleet.
For the first time ever, our state academies will have a world-class, purpose-built, American-made training vessel featuring numerous instructional spaces, a full training bridge, and space for up to 600 cadets to train at sea. The NSMV will also support federal government efforts in response to national and international disasters, as it includes medical capabilities, command and control spaces, and berthing for up to 1,000 first responders and recovery workers when pierside. We required maximum use of qualified American-sourced equipment and 100 percent utilization of U.S.-flag shipping for any equipment coming from overseas.
Again this year, we invested in our domestic maritime industry through the America's Marine Highways Program (AMHP). Our country has 12,000 miles of navigable inland waterways. Congestion on our roads, bridges, railways, and in ports costs the United States as much as $166 billion; trucks account for $20 billion of this cost. By moving cargoes from our roads to our rivers and other waterways where it makes sense, we can reduce congestion, its related costs and pollution, while giving America's maritime industry a shot in the arm. To date, DOT has awarded more than $33 million in competitive Marine Highway Grants to do just that and we expect to award another $9.5 million soon.
We also launched a major new investment in the industry earlier this year: our $280 million Port Infrastructure Development Program (PIDP). Our ports are national and regional jobs engines. These grants will fuel efforts to improve facility and freight infrastructure to ensure our Nation's freight transportation needs, present and future, are met.
Just last month, through our Small Shipyard Grant Program, we also awarded 24 grants totaling nearly $20 million to help small shipyards modernize, making them more efficient in constructing commercial vessels. American shipyards support nearly 400,000 jobs and contribute more than $37 billion to our economy.
As we move forward in continuing to deal with COVID-19, many aspects of our lives might be forever changed, but I believe that we will come through this experience stronger as a county, as a government agency, and as an industry. However, the foundations of U.S. maritime policy— the Jones Act, Cargo Preference, and the Maritime Security Program - will endure.
Cargo is always king. That's why, in collaboration with Defense Acquisition University (DAU), we recently launched accredited, web-based training courses on cargo preference laws and regulations to boost compliance and drive more non-military federal cargo to U.S.-flag vessels. This will continue to help U.S.-flag operators remain competitive and put American workers first.
The Maritime Security Program remains essential. In return for an annual federal payment of $5 million per ship/per year, the MSP provides our Nation with assured access to a fleet of 60 modern, militarily useful U.S. ships, active in global trade and available "on call" to meet contingency needs. This vital program has an annual budget of $300 million – quite a bargain when you consider that replicating the MSP fleet and intermodal resources and networks with taxpayer funds would cost an estimated $60 billion plus.
Finally, the Jones Act—our domestic cabotage law—which reserves cargo moving between American ports for American ships, crewed my American mariners, and built in American shipyards is central to sustaining U.S. shipping, our shipbuilding capacity, and the employment of American civilian mariners. Jones Act shipping is a U.S. job machine, resulting in $54 billion in U.S. economic output and supporting nearly 650,000 American jobs.
Just as for every American, this has been a challenging time for our agency and our industry. But the work of supporting the U.S. maritime industry goes on across America. Just as World War II mariners learned how to more safely navigate dangerous waters, we've learned to adapt, to collaborate, and to find new ways to support and protect what we hold dear: that as maritime nation, our Nation's economy depends on trade by sea.
I take great pride in the fact that, during my watch the MARAD, Congress and President Trump came together to honor World War II civilian merchant mariners with the Congressional Gold Medal. It was a long overdue recognition of their service and sacrifice. We can look to the spirit of those mariners for courage and strength to carry us through difficult times. As always, their example of service — "In Peace and War" — will guide us through the tempest.

(As published in the June 2020 edition of Maritime Reporter & Engineering News)

References:
2019 Urban Mobility Report, Texas A&M Transportation Institute, p. 1, https://static.tti.tamu.edu/tti.tamu.edu/documents/mobility-report-2019.pdf.
https://www.maritime.dot.gov/newsroom/press-releases/maritime-administration-announces-more-280-million-grants-nations-ports
https://www.maritime.dot.gov/newsroom/press-releases/us-department-transportation-launches-port-infrastructure-development
https://www.maritime.dot.gov/newsroom/press-releases/us-transportation-secretary-elaine-l-chao-announces-nearly-20-million
https://www.maritime.dot.gov/newsroom/press-releases/maritime-administration-announces-cargo-preference-training-courses
46 U.S. Code § 53102
National Defense Authorization Act of 2019, p. 672
Global Reach: Revolutionizing the Use of Commercial Vessels and Intermodal Systems for Military Sealift, 1990-2012, p.336
Contribution of the Jones Act Shipping Industry to the US Economy Contribution of the Jones Act Shipping, Executive Summary, pp. E-2, E-3