Mare Island Dry Dock Tallies $33.5 Mln Navy Contract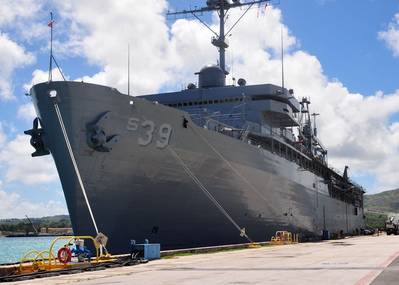 Vallejo, Calif. ship repair yard Mare Island Dry Dock has secured a $33,532,308 firm-fixed-price contract for a 150-calendar day shipyard availability for the regular overhaul and dry-docking of U.S. Navy submarine tender ship USS Emory S. Land (AS 39). Work is expected to be complete by January 2021.
The contract includes a base period and three options which, if exercised, would bring the cumulative value of this contract to $36,228,717. The Naval Military Sealift Command, Norfolk, Va., is the contracting activity (N32205-18-C-4552).
Commissioned in 1970, the 649-foot USS Emory S. Land provides expeditionary intermediate level maintenance and repairs, as well as provide hotel service and logistics support to deployed Guided Missile and Fast Attack submarines deployed in the Fifth and Seventh Fleet areas of responsibility.
The ship is manned by an integrated crew of sailors and civilian mariners under the administrative control of Commander Submarine Force, U.S. Pacific Fleet, Pearl Harbor, Hawaii, and operational control of Commander, Submarine Group 7, Yokosuka, Japan.