Marine Travelift Hatch Crane Installed on VTB's New Barge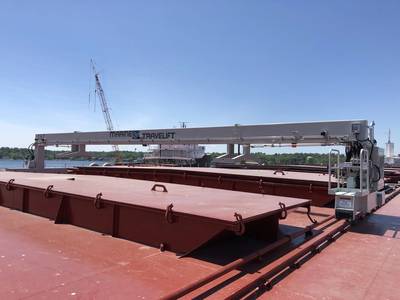 Fincantieri Bay Shipbuilding (FBS) in Sturgeon Bay, Wis., recently installed a Marine Travelift HTC 150D Hydraulic Hatch Crane on the Michigan Trader self-unloading barge delivered to VanEnkevort Tug & Barge.
The Michigan Trader features an overall length of 740 ft X 78 ft beam X 45 ft depth. Once in service, it will serve the Great Lakes region by hauling bulk commodities including iron ore, stone and more.
"It was nice to partner with a local supplier, Marine Travelift, to provide the lifting solutions for the Michigan Trader," said Todd Thayse, Fincantieri's Vice President and General Manager. "Most importantly, the hatch cover crane was delivered on time and to the correct specifications."
Located down the street from FBS in Sturgeon Bay, Marine Travelift has been designing, manufacturing and shipping maritime equipment across the world since 1954. The catalyst for Marine Travelift's development of a hatch cover crane product line was the self-unloading bulk carrier construction boom in the 1970s. Previously, bulk carrier ships were loaded and unloaded using dock cranes. The new ship design incorporated a conveyor system that allowed the ship to unload much quicker and at locations that were not equipped with dock cranes. This unloading system, in turn, drove the need for faster and more reliable hatch cover cranes in lieu of the "one-off" designs used on older vessels. The HTC 150D became the go-to design for virtually all new Great Lakes bulk carriers built at FBS and elsewhere throughout the Great Lakes.
The HTC product line has, over the years, been expanded to suit ocean-going vessels with heavier stacked covers, as well. Today, Marine Travelift's hatch cover cranes lineup is available with lifting capacities of 15,000 lbs., 60,000 lbs. or 90,000 lbs. to meet the demands of various types of bulk carriers. In addition, these units are fully customizable to ensure the crane is compatible with the vessel's dimensions and various cover pick points. All hatch cranes come standard with Marine Travelift's two-step marine paint process and are load tested in-house.
"We were happy to work with another local company, FBS, and provide a custom HTC 150D for the new Michigan Trader vessel," said Kurt Minten, Vice President of Sales at Marine Travelift. "Because our hatch cover cranes are completely self-contained and operate independently of the ship's power, I know this unit will be extremely efficient for them out in the field."