Wärtsilä Donates Engine to SUNY Maritime College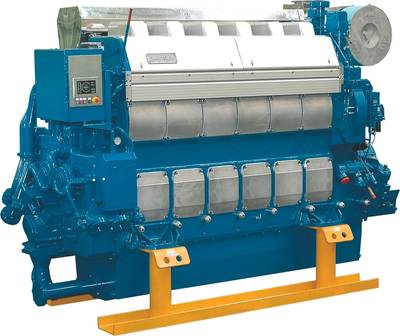 Wärtsilä to donate diesel engine and equipment to SUNY Maritime College Engineering Department; Donation valued at $1 million.
Wärtsilä, the marine industry's leading solutions provider, will donate the main components of a hybrid diesel propulsion system to the Engineering Department at State University of New York Maritime College. The unveiling ceremony on October 12, 2011 serves as the official dedication and opening of the Wärtsilä Lab, housed in Marvin Tode Hall, science and engineering building on the SUNY Maritime campus, the Bronx, New York City. The donated equipment and support includes a 6-cylinder Wärtsilä 26 medium speed diesel engine, reduction gear, a power take-in (motor) / take-out (generator), related system equipment, tools, instruction manuals and instruction at Wärtsilä's Land and Sea Training Academy in Fort Lauderdale Florida. This system combines diesel-electric and diesel–mechanical machinery maximizing system efficiency while reducing fuel consumption and emissions. The total donation to SUNY Maritime College's Engineering Department is valued at $1 million.
"We at Wärtsilä are very excited to have the opportunity to partner with SUNY Maritime College, one of the premier maritime academies in the United States, training tomorrow's engineers and engineering executives - the men and women who will lead the maritime industry in the coming decades," said Frank Donnelly, President, Wärtsilä North America, Inc. "Maritime students, studying this state-of-the-art diesel technology will join the maritime community with a greater working knowledge of diesel maritime technology," said John Hatley, Vice President, Ship Power, Wärtsilä North America. SUNY Maritime College Engineering Chairman Dr. Richard Burke expressed his gratitude on behalf of the students and engineering faculty of the College for the generous donation. "The Wärtsilä 26 diesel engine, that will be housed in the Wärtsilä Lab, will allow our engineering students to work on a state-of-the art engine – similar to one that they will encounter when they are at sea onboard a modern day ship." SUNY Maritime College president, Rear Admiral Wendi B. Carpenter, USN (Ret.), expressed her deep thanks to Wärtsilä, stating "We are most appreciative for this very generous gift that represents a major investment in our students, and therefore in the future leaders of the maritime and transportation industry. Wärtsilä's vision in this venture is far reaching in its global impact. Maritime College looks forward to a long and productive public-private partnership with Wärtsilä for many years to come."
To mark the occasion, Wärtsilä will host a reception at the SUNY Maritime College campus on October 12, following the afternoon unveiling ceremony. The next day, Wärtsilä and SUNY Maritime will join together and take part in the Closing Bell Ceremony at the NASDAQ stock exchange, Times Square in mid-town Manhattan.