New Maritime Bank Plans to Bridge Funding Gap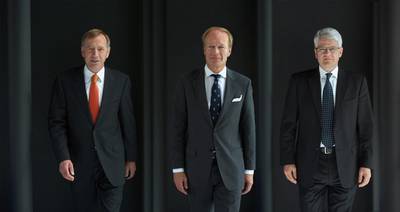 A team of Norway-based shipping, offshore and finance professionals intend to establish Maritime & Merchant Bank ("M&M'') a niche financial institution dedicated to meeting the funding needs of owners active in the shipping and offshore industries, worldwide.
The newly formed project company, Maritime & Merchant AS (M&M AS), will file a banking license application on behalf of M&M during the autumn of 2013. The main sponsoring shareholders of M&M AS are currently Arne Blystad, Henning Oldendorff, Nergaard Investment Partners, controlled by Alex and Birger Nergaard and Landmark Holdings in Shanghai.
M&M say they will focus on the maritime and offshore industries, providing a broad range of services, including secured lending, syndication, hedging products and payment services. Pending the successful resolution of the filing process, the bank is expected to begin operations in the second quarter of 2014.

According to Managing Director of M&M AS Halvor Sveen (formerly Senior Vice President, Offshore & Shipping at Pareto Bank ASA), the bank is being established to meet the industry´s growing demand for financing. "Over the past four years, the introduction of stricter capital requirements has forced many banks to either discontinue lending to owners or scale back on activities in ship finance," he says. "This tight credit market has left many small to medium-sized owners seeking financing with no place to go – until now."

Sveen adds that established banks with diverse investment portfolios unrelated to the shipping and offshore segments have been forced to introduce tighter lending controls to maintain their activities in core business areas. "Owners have turned to alternative sources, such as the bond market, private equity and export credit agencies, to fill the gap," he says. "We saw a demand for a highly specialised bank with experience in the shipping and offshore industries that is able to make quick decisions."