Maritime Safety Finds a Future in the Cloud
Orca AI, headquartered in Israel and founded in 2018, has a simple yet complex premise: develop and deliver an intelligent safety platform for the maritime industry to prevent collisions. To date it has attracted attention and business globally, working with SeaSpan, NYK, MSC, Shell Shipping and Marubeni amongst others. Maritime Reporter TV recently caught up Orca AI CEO and co-founder Yarden Gross for insights on the reality today, and the promising potential for AI in the maritime sector.
---
Yarden, to start us off can you give a brief on Orca AI?
We started the company in 2018, my co-founder Dor Raviv and I, both of us Israeli Navy veterans, afterward working in the tech industry. [Maritime is traditionally conservative, but for good reason] as ships are expensive assets, operating in remote locations with all decision-making happening onboard the vessel, without visibility to the shore side.
While ships are becoming more connected, the technology onboard is outdated. There's an opportunity for shipping companies to start deploying technology on board to help solve a lot of critical problems in the operation of the ship, whether that's making the operation more efficient, reducing the workload, increasing the safety, reducing the fuel costs and emissions, for example. Orca wants to be the enabler for ships to go from Point A to Point B in the most efficient way, the safest way, empowering the crew, automating parts of the voyage, enabling visibility to the shore side, and optimizing the most critical section of this supply chain.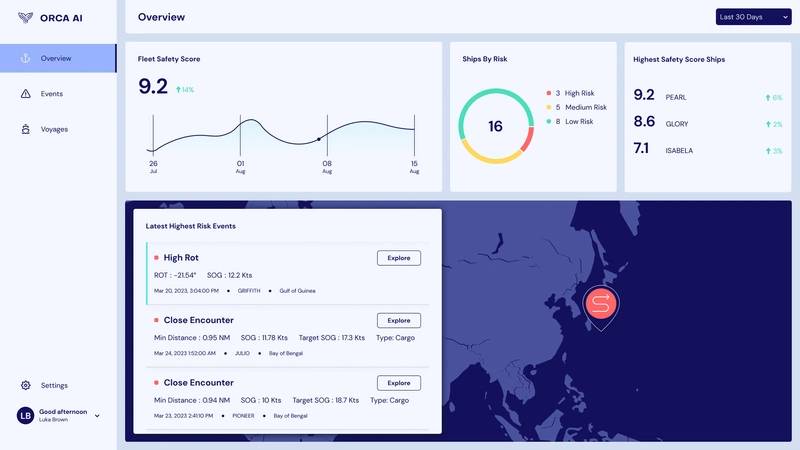 Image courtesy Orca AI
When you started this company in 2018, what was your plan for growth, and today in 2023, how does that reality differ from the plan?

That's a good question. As an entrepreneur, you're always super optimistic, but I would say that it was much more challenging than expected because of the conservative [nature of the] industry. Also, ships are sailing for weeks without reaching land, so you need to do everything remotely because you're building a cutting-edge technology and you need to collect a lot of data to train the models and get to a certain performance.
So it was challenging to build Orca, but today we've created the playbooks, and now we're in a place where we see that we are growing, customers that started using Orca on just handful of vessels now going to full-fleet roll-outs.
Today we're working with [some of] the biggest shipping companies in the world, and we are a part of some of the most innovative projects to develop the future of shipping: autonomous ships and autonomous fleets.


What exactly is the business model for Orca AI?
First of all, there is something that is inherently different that happened in the last couple of years versus what you saw in the last 30 years in the shipping industry. My previous startup was in the automotive industry, and I saw how once you have connectivity to the cloud, it changes how the industry starts to operate, it changes the business model. Take Tesla, for example, that has really changed how the business model is working in the automotive industry.
I think what is happening now in the shipping industry is that as we see ships become more connected, particularly with companies like Starlink that are providing, basically, 5G in places all around the oceans.
You start to move data from the ship to the cloud, and you start downloading software from the cloud to the ship. That's where we are today, and it's a process that will evolve in the next five years. What we're going to see more and more applications that solve critical problems, whether it's around maintenance of engine and creating predictive maintenance solutions, of problems around the navigation side [such as fuel burn and emissions].
All of a sudden you have capabilities with connectivity with the ability to deploy new types of application to minimize or solve problems. With that, you're going to start seeing sustainable software as a service (SaaS) business model around that – something that you already see in other industries, but something you couldn't do with ships before because they were not connected.
Once a ship is connected, a ship owner can say, "Okay, I want to buy fuel optimization software, I want to buy automation for the navigation." Each will be bought based on a subscription model, meaning there is no upfront cost. [As this evolves] we expect that companies will understand that to [remain competitive] they will need to start deploying more types of applications on board their fleet.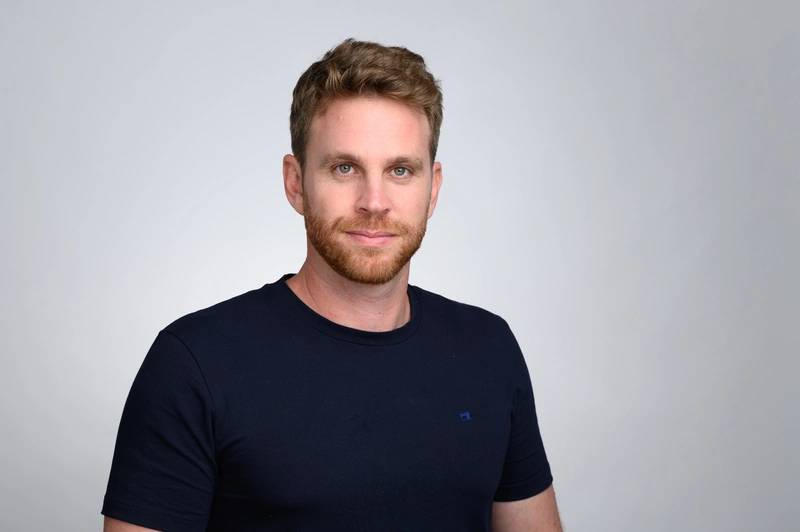 "Orca wants to be the enabler for ships to go from Point A to Point B in the most efficient way, the safest way, empowering the crew, automating parts of the voyage, enabling visibility to the shore side, and optimizing the most critical section of this supply chain."
Yarden Gross, CEO and co-founder, Orca AI
Image courtesy Orca AI
When you get beyond that small sample size of early adopters, what do you see in regards to general interest and acceptance of the tools that Orca AI offers?

It's a good question because there is an educational phase. We see customers today that are much more receptive for technology in general, in understanding that technology can help solve problems in their operations. We started in the oil and gas segment, and today Orca is installed on [a wide variety of ships], including car carriers, container ships and ferries [to name a few]. We are also serving different type of fleet sizes, from a fleet of eight vessels to fleets with 50 vessels; and when I say 'installed', I mean full deployment across the fleet.
I think we are just scratching the potential, and I think that in the next five years we are going to see much more adoption, not just of Orca, but other type of solutions as well.
I understand that Orca AI announced a partnership with Japan's Marubeni Corporation for sales of its AI-powered situational awareness platform. Can you talk about that deal and how you see it as being instrumental for the growth of your company?

When you're building a sales organization, there are limited things that you can do directly. Up until today, we've been selling to customers all around the globe directly. But then there is a certain time that you say, "Okay, I need to start focusing and doubling down on either certain segments or certain territories, and this is what I know and what I can actually execute today and do it directly with the customer." When you see other regions and specifically Southeast Asia and Japan, you want to work with partners and you don't want to do everything by yourself.
What we saw with Marubeni, and I think this is not just about Marubeni as a company, but it's also about specific people in the organization that understood the value of Orca and understood the vision that we're bringing to the shipping industry. I think after we've been working together, first as a customer, Marubeni was first a customer and they saw the value, and then they said, "Okay, we want to be a part of it."
We understood very quickly that Marubeni could be a great partner for us just because of that, because of the people that are building the organization, the people that understanding the future, the people understanding the vision. This is what created a very unique collaboration.


Can you discuss how Orca AI is investing today to insure its tomorrow?
We're a tech company, so internally, I would say that for us the most important asset is people. We're hiring the best type of people that are the most skilled in terms of what they know and their experience, but it's not just that.
When you're building a tech company, particularly in an industry that is so conservative, you're a pioneer. When you're pioneer, there are a lot of ups and downs as you pave the way. So you need people that know how to be a leader, that know how to push forward, that know how to execute and are not scared of the challenge. They understand that it's a rollercoaster ride, but they believe in the vision.
One of my mentors always said that A-type of people attract A-type of people, but B-type people bring in C-type of people. This is important, because once you go into the B-types, it goes very quickly to the C-types.



Watch the full interview with ORCA AI's Yarden Gross on Maritime Reporter TV: