Serious Gaming Debuts as Maritime Security Tool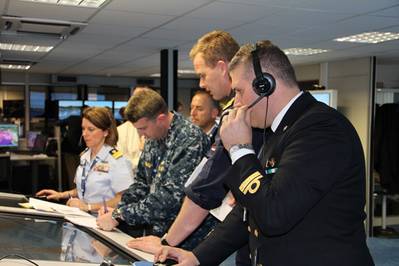 The NATO Undersea Research Centre (NURC) is hosting a serious gaming event, called the Harbor Protection Table-Top Exercise (HPT2E), which aims to significantly advance interoperability and capabilities in maritime security.
Sponsored by NATO's Emerging Security Challenges Division Defense Against Terrorism program of work, the exercise, held 20-23 March at La Spezia, Italy, focuses on the protection of military forces, shipments, and critical civilian infrastructure in ports and harbors during times of high threat alert. Using serious gaming with cutting-edge modeling and simulation methodologies and technologies, the Centre's cadre of scientists and engineers address emerging security challenges and anticipate solutions which will enable Smart Defense through better cooperation and interoperability.
NURC has developed computer models of new and existing technologies proposed for safely enforcing security stand-off zones on the waterside in ports. These technologies will be exercised in dynamic attacker-defender tactical vignettes, played in a virtual port environment. HTP2E will develop concepts of use for the new technologies and will provide a preliminary assessment of their overall effectiveness in realistic action. HTP2E is carried out on NURC's Open Sea Tactical Theatre Simulator, which has been developed by four companies working closely together: BK scroll. (La Spezia), IBR Systemic (Genoa), Ingo. De Rosa (La Spezia), and Spiro's (Paige).
"We are very proud to host this exercise," said Dr. Ron Kassel, NURC Scientist and Open Sea Project Leader. "HTP2E is a significant advance in tactical gaming and it is the first time that serious gaming is being used in the Defense against Terrorism program."