Maritime Craft Services takes delivery of MCS Pampero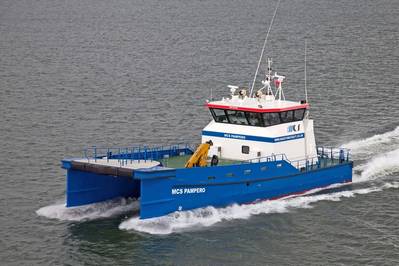 A Scottish maritime company has taken delivery of a second Twin Axe Design offshore wind farm support vessel.

MCS Pampero, sister vessel to MCS Sirocco which joined the fleet in June, was handed over to Maritime Craft Services in Singapore and will go straight to work in NW Europe from mid-December. They join crew transfer vessels MCS Zephyr and MCS Maestro South Boat catamarans which were acquired last year.

The Largs-based company also announced it is to invest €11m in a further three Damen Twin Axe Design FCS 2610s which will be delivered in March, April and June next year, bringing its total investment in crew transfer vessels to €22m.

MCS Pampero - which takes its name from a polar wind that hits the pampas in the south of Brazil, Argentina and Uruguay - is the latest purpose-built addition to Maritime Craft Services' sixteen-strong fleet. She'll work on the Global Tech 1 Wind Project in Germany and will primarily be used to transfer personnel to and from the project's base port in Wilhelmshaven to the offshore wind farm, along with utilising her large deck-carrying capacity for transferring cargo.

MCS Managing Director Dirk Kuijt said: "They are ideal vessels for Rounds 2.5 and 3 in UK offshore wind farms and are excellent for operating in Germany and Denmark. We see many additional opportunities for the company in this sector so we're delighted to take delivery of these two new vessels and to order a further three. This will significantly strengthen our fleet and enhance our service to renewables customers worldwide."

MCS has been in business since 1976 and for the last ten years has operated on a number of key international offshore wind farm projects including the UK's London Array and Sherringham Shoal, Denmark's Horns Rev, Belgium's Thornton Bank and Belwind, and Germany's Bard Offshore 1. With a staff of 140 and a growing customer base in the Middle East, Africa, Europe and the UK, it owns and operates a modern fleet of purpose-built offshore wind farm support vessels.

MCS is ISO 9001:2008 certified, which underscores the company's commitment to delivering a high-quality service with an emphasis on safety, cost-effectiveness and client satisfaction.