Maritime Training amid COVID-19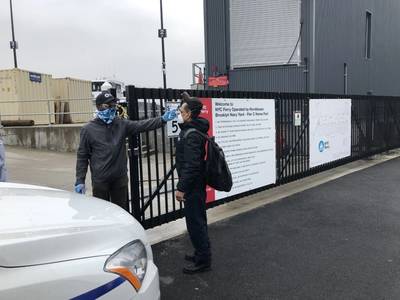 Good maritime training provides much more than the certifications, licenses and documentation needed to qualify for the job. It goes beyond preparing crews to carry out onboard functions safely and efficiently day in and day out. Well-trained mariners have the skills and knowledge to handle almost anything thrown their way – even when confronting the unexpected. But what happens when the unexpected is a pandemic?
COVID-19's effects on industries across the world have been widespread and diverse, forcing businesses to adjust to an entirely new set of global circumstances. The maritime industry has certainly adapted, but vessel crews cannot simply work from home to avoid exposure to the novel coronavirus, just as cargo cannot be transported over Zoom.
"Mariners have continued to report to work, vessels have continued to operate and the industry has adapted to maintain operational continuity and readiness," said American Waterways Operators president and CEO, Jennifer Carpenter, in her testimony before the House Transportation and Infrastructure Subcommittee on Coast Guard and Maritime Transportation in May.
Carpenter stressed the resiliency of the U.S. domestic maritime supply chain and highlighted the key role of the American tugboat, towboat and barge industry in maintaining the flow of vital commodities and guiding ships into port throughout the conronavirus health crisis. Vessel operators, which routinely emphasize sound safety practices (including training) as part of their regular course of business, were able to react quickly to keep crews safe and cargo moving. Critical to maintaining operations during the pandemic were the swift prioritization of crew health and safety, Carpenter noted. "The industry's extensive experience with contingency planning, safety management systems and incident command structures has served it well in managing the health, safety and operational challenges posed by the pandemic," she said. "Companies quickly put in place – and have continued to refine – procedures aimed at keeping the virus off their vessels."
One company that moved quickly to implement measures to protect its workers (and thereby the flow of maritime commerce) is Crowley Maritime. The organization put in place new safety practices and procedures surrounding sanitation, proper handwashing, personal protective equipment (PPE) use and social distancing on board its vessels, and has been emphasizing best practices for safety on crew change, says Ira Douglas, Crowley's vice president, labor relations. He says a Ship Operations Cooperative Program (SOCP) Safety and Health Working Group, led by Capt. Cole Cosgrove, working group chair, and vice president, Crowley global ship management, helped to manage crew changes as safely as possible.
So far, the additional safety measures have been paying off. "The COVID-19 infections on commercial vessels at this time have been infrequent, relatively, because of mariners' work and dedication and cooperation among. labor providers, terminal operators, industry oversight organizations, and vessel owners/operators," Douglas says.
"I think some of these practices will remain, certainly, because the experiences are reinforcing the need for safety to support the global supply chain, even by companies such as Crowley that prioritize safety as a core value," Douglas says. "I think the attention to sanitation and hygiene, especially in high traffic areas, will become more normalized. I would expect once we are on the other side of this, that social distancing will not continue, however."
Crowley's regular training practices have also had to be adjusted in parallel. "The COVID-19 pandemic has significantly impacted our approach to training, primarily for courses traditionally completed in person," says Vicky Ellis, director, marine development and learning.
Ellis says the company had already begun shifting a significant portion of its training to an online, at-home format before the coronavirus outbreak. Once the pandemic hit, Crowley was able to work with many of its vendors who traditionally only offered in-person classroom instruction to move courses online to a virtual classroom format using video and web conferencing software. "This shift allowed us to keep our crews safe by being able to quarantine and not travel during the pandemic. As a side benefit, it also resulted in significant cost savings for the company," Ellis says. "Even as areas and schools begin to reopen, we are in conversation with vendors on how we can continue to offer virtual training opportunities, especially for courses that are largely lecture in nature. We continue to learn and take advantage of technology to promote training and safety."
While many in the passenger vessel segment have been forced to suspend voyages due to COVID-19, a small numbers of operators, including NYC Ferry operated by Hornblower, has remained operational as an essential service throughout the health crisis.
Richard J. Paine, Jr. Regional Director, HSSQE, for Hornblower, says training leading up to the pandemic involved a mix of classroom style, online/computer-based/virtual and traditional hands-on programs, each providing a specific emphasis on certain phases of the operation. "In order for us to continue to train during this period, we reduced the size of training sessions, conducted in outdoor settings and conducted while observing social distancing requirements," he says. "Our virtual training platforms remained operable and we are currently implementing a training plan to introduce webinar-based classroom training conducted with a live instructor."
Paine says most training changes related to COVID-19 aren't necessarily new subjects for Hornblower, but more of an update and revision to previous content. For instance, the operator added subject matter such as PPE usage, good hygiene practices, proper cleaning and disinfectant procedures. "The COVID-19 training that has been developed because of this pandemic include practicing social and physical distancing, face-coverings, effective communication to passengers, as well as, continued training on the ongoing guidance provided from elected officials and health-care professionals." he says.
Of course, not all training can be completed at home. "The U.S. Coast Guard and other regulators have very strict guidelines on what courses be delivered online. STCW, by its very nature, requires hands-on learning and assessments but we are all learning and adapting," notes Captain Ted Morley, COO and academic principal at Maritime Professional Training (MPT) in Fort Lauderdale, Fla.
"Even before COVID-19 we designed our main campus to fight viruses and improve air quality," Morely says. "We have UV sterilizers in our AC system and hospital grade hepa filtration, along with hydroxyl units and disinfectant fogging systems. We also pre-filter and pre-condition all the air coming into the building. Currently we are expanding our online portal to include virtual classrooms and more distance learning options."
Long term, as technology continues to improve, Morely expects a "blended approach" to learning that includes more video conferencing and virtual simulations, but with hands-on, in-person instruction where needed. "The blended approach will allow students to receive the classroom material early, review and develop a baseline, complete pre-entry familiarization, and then be ready to shift to a classroom setting to complete the learning process and the assessment criteria as established by the STCW Code and the various regulatory agencies," he explains.
Asked whether COVID-19 could spur new health and safety training requirements, Morley said it's hard to say whether regulations will arise, but added MPT is already working with some of its vessel operators and shoreside terminal operators to develop operational guidance and procedures. "I think we will see more companies working on ways to improve safety for their mariners and staff; a big part of that is training on prevention, mitigation, cleaning and contact tracing."