Mech-Tool Delivers Fire System to DSIC Offshore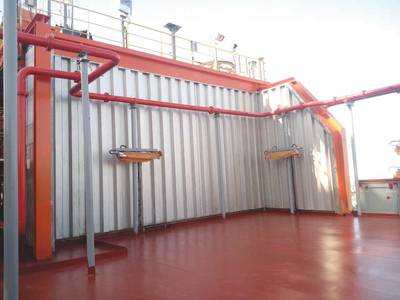 Darlington based product manufacturer and global supplier of fire, blast and heat protection systems Mech-Tool Engineering Ltd (MTE) said it has delivered a fully certified ABS fire rated wall system for a Chinese turnkey EPC contractor in offshore construction.
The company's stainless steel A60 fire rated wall system will offer the ultimate protection to personnel on the deep-water semi-submersible rig, BT4000, should they need to use the evacuation lifeboats during an emergency.
Awarded by DSIC Offshore – the offshore arm of Dalian Shipbuilding Industry Corporation – the fire rated wall system was designed and manufactured by MTE in only a matter of eight weeks.
The full turnkey solution was manufactured at Mech-Tool Engineering's South Korean production site Mech-Tool Korea (MTK) in Busan and subsequently delivered to DSIC shipyard in China where the fire wall system was installed within one week, with the MTE's leading engineers present onsite to provide additional installation support.
The BT4000 semi-submersible rig will be used for light workover/well intervention operations in offshore areas in
Brazil
, Gulf of Mexico, West of
Africa
and South East Asia. It has been designed to withstand water depths of up to 2,400m.
MTE's fire rated wall system comprises of an A60 stainless steel profile and insulation system. The full height stainless steel liner system is fully weather sealed and the overall wall system has achieved an ABS approval fire certification.
The company's Korean business arm MTK was established in 2013 to facilitate for the growing manufacturing demands of fire and blast walls for clients in the
Far East
and Asian market place.
Established in 1969, MTE offers a complete end to end solution for fire, blast and radiant heat protection from initial design and consultation through to manufacture and assistance with on-site installation.