Meet MUV: A Self-Propelled Marine Landing Pad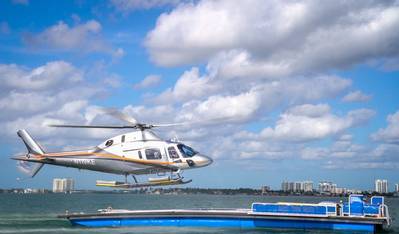 ILANDMIAMI debuts it's new marine utility vessel (MUV) to transport Art Basel attendees to and from events.
ILandMiami designs, engineers and manufactures custom made landing solutions including helicopter dollies, helidecks, and temporary helistops as well as their patented, trademarked marine utility vessels (MUV). The MUV, also referred to as a heliboat, was engineered as a fully navigable vessel and is the first self-propelled marine landing solution and can accommodate helicopters up to 7,000 lbs.
Art Basel Attendees got to see this innovation first hand on Friday, December 7, as ILandMiami's strategic partner Leonardo Helicopters sent its AW119Kx to collect VIP guests from the Fontainebleau Aviation at Miami's Opa Locka Airport, flew them in 5 minutes over to Miami Beach's Biscayne Bay where luxury yachts from yacht charter partner YachtLife Miami transported guests onward to Art Basel locations.