China Merchants Holdings Complete Terminal Link Deal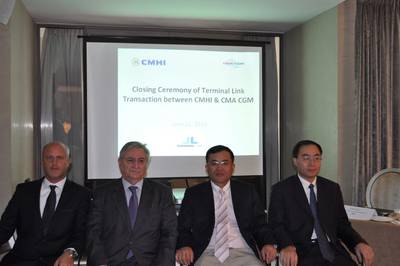 China Merchants Holdings (International) announce completed acquisition of a 49% stake in container port operators Terminal Link from CMA CGM.
Farid Salem, CMA CGM's Executive Officer, said: "CMA CGM is very pleased to enter a new strategic partnership with CMHI which will allow us to join our complementary forces to operate and further develop in Terminals investments."

"The smooth completion of this transaction,"China Merchants Group Assistant President & CMHI Managing Director Dr Hu Jianhua indicates," reflects the recognition and consent to the transaction from the governments from whose regulatory units consents and approvals were obtained. The process to seek approvals and consents has also helped to anchor Terminal Link's platform through which to further develop its ports businesses in these areas."
"The smooth completion of this transaction,"China Merchants Group Assistant President & CMHI Managing Director Dr Hu Jianhua indicates, "reflects the recognition and consent to the transaction from the governments from whose regulatory units consents and approvals were obtained. The process to seek approvals and consents has also helped to anchor Terminal Link's platform through which to further develop its ports businesses in these areas."

The complexity of obatining pernissions is indicated below: Terminal Link owns 15 container terminals in 8 countries across four major continents, viz:

- Container Handling Zeebrugge at Zeebrugge (Belgium); 

- Antwerp Gateway at Antwerp (Belgium);
- Terminal des Flandres at Dunkirk (France) ;
- Terminal de France and Terminal Nord at Le Havre (France);
- Terminal du Grand Ouest at Montoir (France) ;
- Eurofos at Fos (France) ;
- Somaport at Casablanca (Morocco);
- Eurogate Tanger at Tangiers (Morocco) ;

- Malta Freeport Terminal at Marsaxlokk (Malta); 

- Terra Abidjan at Abidjan (Ivory Coast); 

- Houston Terminal Link Texas at Houston (the United States) ;

- South Florida Container Terminal at Miami (the United States) ;

- Busan New Container Terminal at Busan (South Korea) ;
- Haicang Xinhaida Container Terminal at Xiamen (the PRC).

In the picture from left to right : CMHI Executive Director of International Development Jared H. Zerbe, CMA CGM Executive Officer Farid Salem, China Merchants Group Vice President Raymond Yu, CMHI Deputy General Manager & CFO Zhang Rizhong