Joint High Speed Vessel USNS Millinocket Completes Acceptance Trials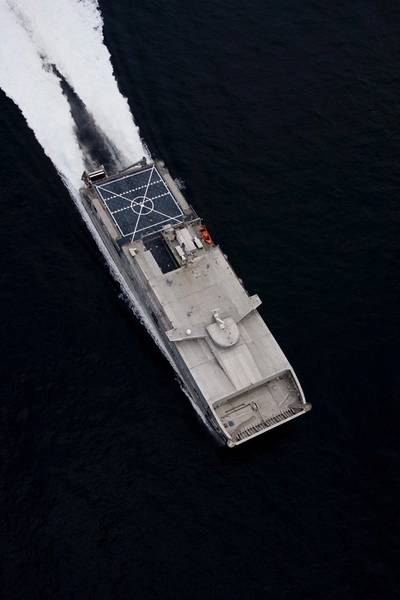 Shipbuilders, Austal USA say that this milestone achievement involved the performance of intense comprehensive tests by the Navy while underway, which demonstrated the successful operation of the ship's major systems and equipment. This is the last significant milestone before delivery of the ship, which is expected in late January 2014.
As the U.S. Department of Defense's multi-use platform, the 103-meter JHSV will provide rapid intra-theater deployment/transportation of personnel, equipment and supplies. The vessel will support military logistics, sustainment and humanitarian relief operations at speeds of up to 43 knots.

The JHSV will transport medium-size operational units with their vehicles, or reconfigure to provide troop transport for an infantry battalion, allowing units to transit long distances while maintaining unit integrity. The vessel also supports helicopter operations and has a slewing vehicle ramp on the starboard quarter which enables use of austere piers and quay walls, common in developing countries. A shallow draft (under 4 meters) will further enhance theater port access.

Austal inform that this vessel is the third of ten JHSVs that Austal has been contracted by the Navy to build in its Mobile, Ala. shipyard. The Navy selected the yard as the prime for this $1.6 billion contract in 2008. Austal's teaming partner, General Dynamics Advanced Information Systems (a business unit of General Dynamics) is the ship systems integrator, responsible for the design, integration and testing of the navigation and communications systems, C4I, and aviation systems.
Craig Perciavalle, Austal USA President, had this to say regarding the successful completion of Acceptance Trials: "The completion of this major milestone for the third vessel in the JHSV Spearhead-class further demonstrates the maturity of the JHSV program. With the first two ships delivered, the third making final preparations for delivery now, and two more under construction at this time, this program is progressing well, evidence of Austal's success in executing its production plan for efficient serial production."