MERC Ships 500 Millionth Ton of Coal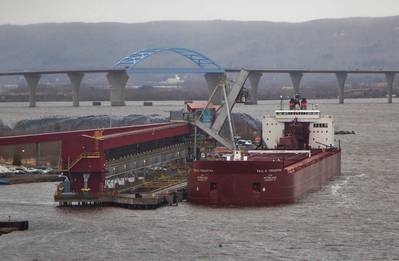 Midwest Energy Resources Company (MERC) transshipped its 500 millionth ton of coal on Monday, December 14, 2015, with the loading of Interlake Steamship Company's M/V Paul R. Tregurtha for the DTE Electric Company. MERC, which began operations in 1976, transshipped its 100 millionth ton of U.S. western low-sulfur coal in 1991, 200 millionth ton in 1998, 300 millionth ton in 2004 and 400 millionth in 2009.
"The 500 millionth ton transshipped on December 14 represents another significant MERC milestone along with the loading and transshipment of our 10,000th vessel, American Steamship Company's M/V American Century on Monday, November 9, 2015," said MERC President Fred Shusterich. He credits the achievement of these transshipment milestones to the hard work and dedication put forth by all MERC employees throughout the years and looks forward to MERC's attainment of its 600 millionth ton transshipped in the not to distant future.