McKinney Chooses Mitsubishi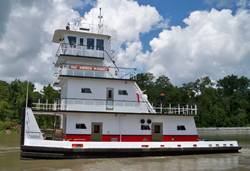 For more than 40 years, McKinney Companies has served the Gulf petroleum and dry cargo industries from its headquarters on the Mississippi River and Intracoastal Waterway. The latest addition to the towing fleet is the shiny new Mac Andrew McKinney. To power the push boat, they turned to Laborde Products to supply an S12A2 Mitsubishi engine rated 940 hp at 1,940 rpm.

"We wanted a Tier II diesel engine with hydraulic governor," said Andy McKinney, VP of operations. "We also preferred to avoid the hassle of complex computers and electronics, so we chose a low-maintenance all-mechanical model. We are 100 percent satisfied with its performance." Based in Baton Rouge, Louisiana, McKinney Marine, operates four 1,000 to 1,800 hp towing vessels. McKinney Harbor Towing, Inc. operates a barge fleeting facility, and McKinney Salvage and Heavy Lift recovers sunken boats and barges.

Built by Verret Shipyard in Plaquemine, Louisiana, the Mac Andrew McKinney is 68' long, with a 30' beam and 10' draft. The 162 gt boat averages 5.8 knots and reaches a top speed of 7.6 knots. Laborde is the largest Mitsubishi Marine distributor in North America with a far-reaching territory from Texas to Florida and New Orleans to Minneapolis. Excellent for the extremely heavy-duty tug and push boat applications, Mitsubishi engines typically offer significantly larger displacement and more mass. Extremely easy to maintain, each cylinder has its own head and the engine has large inspection covers on the crankcase and oil pan.