Monjasa Boosts Bunker Volumes by 17%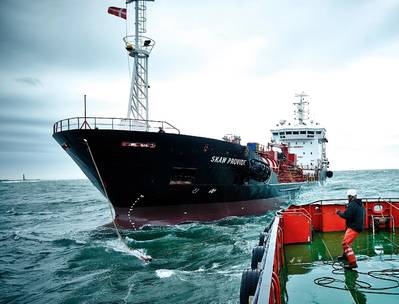 Global bunker company Monjasa Group boosted sales volume in 2028 reaching 4.1 million metric tonnes of marine fuels, up 17% over its previous year figure of 3.5mt.

Despite a continuously challenged maritime shipping industry, 2018 was a good year for the Monjasa. Coupled with the entry of new banking partners and closer relations with oil majors, the Monjasa Group improved its business fundamentals during the year, reporting a positive net result of USD 5mln.

Coupled with a higher average Brent oil price of USD 71 per barrel, total revenue increased to USD 2.1bn and the Monjasa Group reported a net result of USD 5m., which is in line with expectations.

The Annual Report displays a high solvency ratio of 29% and consolidated group equity of USD 121m.

Anders Østergaard, Group CEO said: "2018 was a good year for the Monjasa Group. We succeeded to increase our sales volume significantly across all markets while at the same time improving our business fundamentals. We managed to expand our banking pool with two new partnerships to cater for our working capital needs in relation to our activities in the US and in the Middle East. At the same time, we accomplished to build close relationships with oil majors to secure future availability of low-sulphur products to meet the IMO 2020 regulations."

Looking to the future, Monjasa will continue the push for quality and extended transparency on bunker purchases. The increasing regulatory framework across the shipping industry only confirms that the investments made to provide clear document trails are indeed relevant.

As such, Monjasa's top priority is to offer a safe port for customers during the near-future transition towards more environmentally sound fuel products.

With the progress made in 2018, Monjasa firmly believes to have the right organisation and the operational and financial strength to secure positive developments in 2019.