Montrose Port Takes Delivery of its First Newbuild Pilot Boat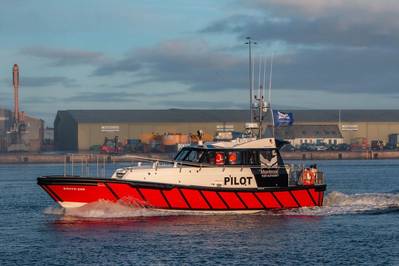 Montrose Port Authority at the end of 2022 welcomed into service its first ever purpose-built pilot boat, South Esk.
The new £800,000 vessel was constructed by Safehaven Marine, in Youghal, Ireland and completed its sea trials at the Port of Cork before making its way to Montrose by traveling across the Irish Sea to Oban, around the top of Scotland and down the East coast.
The Interceptor 48 model launch is the first newbuild pilot boat in Montrose's 200-year trust port history, as all previous pilot boats have been converted from lifeboats.
The new boat is quieter for neighboring households and more fuel efficient, reducing emissions as the Montrose Port Authority team works toward its aim of becoming Scotland's greenest port.
According to the port, the new vessel features state-of-the-art equipment, self-righting capabilities and man overboard rescue equipment. Other notable features include the forward cabin, which has bunks allowing the marine team to rest during extended night time operations, also providing increased seating capacity that can be used in an emergency, or when additional passenger seating is required.
Ross Marshall, harbor master of Montrose Port Authority, said, "Safety is a priority for us at the port authority. As a trust port, we reinvest our profits into our facilities not just our infrastructure and with this new pilot boat, we are, most importantly, investing in the improved safety of our team."