Moran Towing Orders Two More Tugs from Master Boat Builders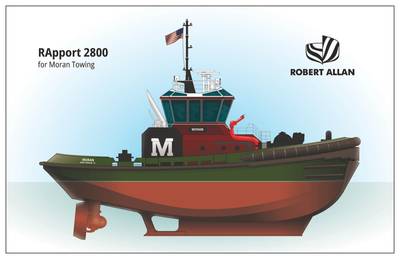 New Canaan, Conn. based towage provider Moran Towing Corporation announced it has ordered another pair of tugs from Coden, Ala. shipbuilder Master Boat Builders for delivery through 2025.
The newbuilds, developed by Moran in collaboration with Vancouver, B.C. naval architecture firm Robert Allan Ltd., are RApport 2800 escort tugs designed to provide more than 80 metric tons of bollard pull. At 92 feet and with a breadth of 40 feet, the tugs will rank among the largest and most powerful in Moran's fleet, slated to help handle the larger, deeper draft vessels calling ports along the U.S. Gulf and East Coast, the company said.
"We are thrilled to announce the addition of these two new tugs, underscoring our pursuit of fleet enhancements," said Ted Tregurtha, president, and CEO of Moran Towing Corporation.
Each of the vessels will be equipped with Caterpillar 3516 EPA Tier 4 main engines and Kongsberg US255 Z-drives. Moran said the versatile tugs have been engineered with the ability to modify and enhance the design for future tug builds, with the ability to incorporate features such as a larger line winch or the addition of off-ship firefighting capabilities.
"In a highly collaborative design effort, the team of Robert Allan Ltd. and Moran Towing has created a tug that is at the forefront of sustainability and safety and one that will provide Moran's clients with optimum value in a variety of towage operations," said James Hyslop, director, project development principal, Robert Allan Ltd. "Designed to be simple, versatile and efficient, these new tugs will provide a solid backbone for Moran's operations as they adapt to the ever-changing needs of the towing industry."
Sean Perreault, vice president of corporate engineering services, Moran Towing Corporation, said, "These tugs represent a leap forward in our ongoing commitment to providing best-in-class maritime solutions. Through our collaboration with Master Boat Builders and Robert Allan Ltd., we have leveraged our design expertise to create vessels that not only embody exceptional performance and compliance but also offer adaptability to cater to our customer's ever-changing demands."
Garrett Rice, president, Master Boat Builders, Inc., said, "We are excited to continue our partnership with Moran on the design and construction of these two new Robert Allan designed tugs. Moran is one of the most well-respected towing companies in the world, and we are honored to partner with them again."
The newbuilds expand the number of tugs Moran Towing has on order to six, following an order for two slightly smaller 86-foot vessels placed with the same builder in late 2022. Moran has another pair of 86-foot tugs being built at Washburn & Doughty in Boothbay, Maine.