Shipyard Fincantieri Launch Multi-purpose Frigate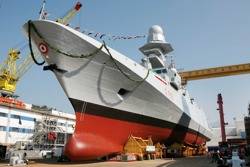 Italian shipbuiliders Fincantieri launch second 'Fremm-class' frigate for Italian Navy
Following the launch of the "Carlo Bergamini" last July, Fincantieri's Riva Trigoso (Genoa) shipyard has launched sister-ship frigate "Virginio Fasan", which is due for delivery at the end of 2012. The vessel is the second of a series of Fremm vessels - Multi Mission European Frigates - which were ordered from Fincantieri by the Italian Navy within the framework of an Italo-French program of cooperation.

Present at the ceremony were, Gianluigi Magri, Undersecretary for Defence, Vice Admiral Luigi Binelli Mantelli, Commander in Chief of the Navy, Giuseppe Bono, CEO of Fincantieri and Corrado Antonini, Chairman of Fincantieri.
The vessel will feature a high degree of flexibility, capable of operating in all tactical situations. 139 metres long with a beam of 19.7 metres, the ship will have a displacement at full load of approximately 5,900 tonnes. The "Virginio Fasan" will have a maximum speed of over 27 knots and will provide accommodation for a crew of 145.

The ships in the FREMM program constitute state of the art vessels for European and Italian defence in the Mediterranean and will replace the "Lupo" and "Maestrale" class frigates built by Fincantieri in the 1970s.

The cooperation has drawn on the highly positive experience of the previous Italo-French program "Orizzonte" under which two frigates were built for the Italian Navy, the "Andrea Doria" and the "Caio Duilio".