Multraship Continues Fleet Growth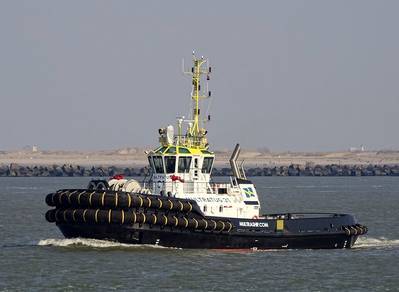 Towage and salvage specialist Multraship says it is continuing to grow its fleet with a number of new additions to its varied range of vessels.
On July 7, the 453-gt firefighting tug Multratug 31 was christened at Terneuzen in the Netherlands. The 83-ton bollard-pull vessel was delivered in 2017.
Multraship managing director, Leendert Muller, said, "We are operating in a highly competitive market, employing all our resources across a wide range of different sectors. Indeed, we have been so busy that even our christenings are a little behindhand."
In April, Multraship acquired a 50-ton bollard-pull ASD tug from a Turkish shipbuilder for its Terneuzen harbor operations. This vessel, which has been named Multratug 9, replaces a 33-ton bollard-pull vessel of the same name which is no longer operational for harbor duties and which will now be put up for sale.
Last month, the firefighting tug Multratug 7 was christened at Terneuzen. The 62-ton bollard-pull vessel was built by Damen in Romania and delivered to Multraship at the end of last year.
Two new DSV/salvage craft have also joined the Multraship fleet recently. Multrasalvor 5 (former Sara Maatje VIII) was acquired at the beginning of this year, joining Multrasalvor 4 (former Vos Shelter) which was bought in 2017.
There is also a new Multratug 29 in the fleet, with the 2015-built tug of that name having been sold to the Shetland Islands government and replaced recently by a 2018 Damen-built vessel with a higher bollard pull of 86 tons. Meanwhile, the 75-ton bollard-pull AHT /ASD tug Multratug 28 has replaced Multratug 30.
Earlier this year, Multraship took delivery of Multratug 32, the first of two CARROUSEL RAVE TUGs (CRT) Model L which will make it easier, safer and more environmentally friendly to work with seagoing vessels at much higher speeds than those at which conventional tugs can safely operate, and without the risk of capsizing under a tow-load. The contract for the vessels was agreed between Novatug, an innovation arm of the group to which Multraship also belongs, and Damen's specialist propulsion subsidiary Van der Velden Barkemeyer GmbH in November 2015. German shipyard Theodor Buschmann GmbH in Hamburg assembled the hulls, which were then moved to Stellendam for fitting-out by Damen, which recently delivered Multratug 33, a second, identical CRT for Novatug. Novatug also plans to market smaller versions of the CRT.
Multraship last month christened two Damen Stan Launch 804s, VB2 and Montis 5. The new launches will be operated by Multraship subsidiaries Montis Mooring Boatservice BV and Verenigde Bootlieden BV and will replace former vessels of the same name which are to be sold to Poland.
Muller said, "The sectors in which Multraship operates are constantly evolving. We cannot afford to stand still. The market is so volatile, and continues to change, giving rise to demand for new and better services. Multraship is committed to investing in order to compete and, where appropriate, to working alongside other competitors in the best interests of its clients. The market is highly competitive, in Europe and the North Sea and elsewhere, and Multraship has positioned itself as a quality marine service provider able to operate across a wide range of sectors, including harbor/terminal and sea towage, salvage, offshore/renewable energy projects and port services. It will continue to invest in quality and safety and will evolve in line with the demands and requirements of its growing customer-base."