New Navigational Product Trio from NOAA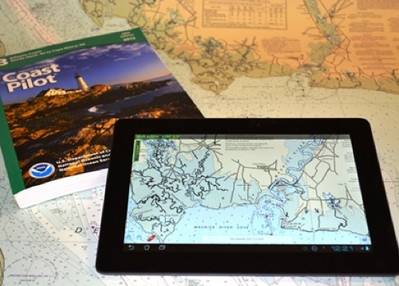 NOAA highlight new US Chart 1, new chart of California waters with IMO TSS shown, and a beta mobile chart app for boaters.

New U.S. Chart 1 shows both electronic and paper chart symbology
For the 65 years since the U.S. Coast and Geodetic Survey issued the first edition of U.S. Chart No.1 in 1948, mariners have had a standard guide for understanding the symbols, abbreviations and terms used on paper nautical charts. In a major step forward, a new edition of that guide also describes the symbols specified by the International Hydrographic Organization for the display of electronic navigational charts (ENC) on Electronic Chart Display and Information Systems (ECDIS).

NOAA Charts Show New IMO Traffic Separation Scheme off California
NOAA has updated a series of raster and electronic navigational charts to comply with routing regulations approved late last year by the International Maritime Organization (IMO COLREG.2/Circ.64, December 4, 2012). The routing establishes a new traffic separation scheme off the northern coast of California, effective June 1.
NOAA'a beta mobile app
As recreational boaters gear up for a summer on coastal waters and the Great Lakes, NOAA is testing MyNOAACharts, a new mobile application that allows users to download NOAA nautical charts and editions of the U.S. Coast Pilot. The app, which is only designed for Android tablets for the testing period, was released on May 20.

MyNOAACharts, which can be used on land and on the water, allows users to find their positions on a NOAA nautical chart. They can zoom in any specific location with a touch of the finger, or zoom out for the big picture to plan their day of sailing. The Coast Pilot has "geotagged" some of the major locations -- embedding geographical information, such as latitude and longitude, directly into the chart so it is readable in the app -- and provides links to appropriate federal regulations.
The app can be downloaded from the Google Play app store here.