Almarin Provides Navigational Aids for BIMEP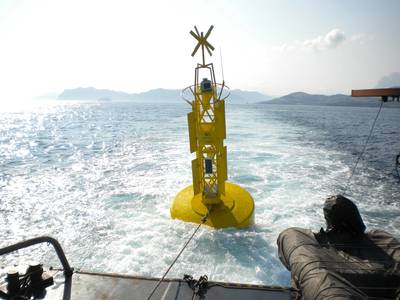 Almarin, manufacturers of Aids to Navigation (AtoN), has supplied the maritime beaconing for Biscay Marine Energy Platform (BIMEP) in Bizkaia, Spain.
Almarin supplied seven G3000TL buoys with 11m3 hull volume, sufficient capacity to handle the sturdy moorings in 90m depth. Equipped with self contained beacons, radar reflectors and AIS systems (providing real time data for ships equipped with ECDIS), these buoys ensure that the perimeter of the BIMEP area is well marked.


BIMEP is an initiative of the Basque Energy Entity (EVE) to promote the development of offshore alternative energies. The BIMEP platform provides unequalled facilities for testing and validation of offshore energy generators. Located off the coast of Armintza, close to Bilbao, the infrastructure is designed for 20 MW of capacity and takes advantage of an existing grid tie, originally built for a nuclear power plant that was never completed. The installation of the buoys was carried out at the beginning of this month by Zumaia Offshore operating from the port of Bermeo.