Netherlands-bound Support Ship Departs Romania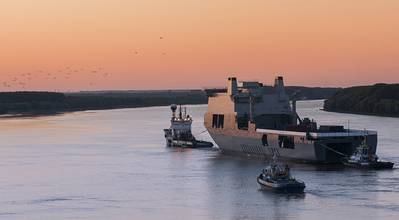 Joint Support Ship HNLMS Karel Doorman departed Romania and en route to its last stage of execution in The Netherlands. The vessel departed Galati on July 22, 2013, and it is expected to reach Vlissingen in three weeks.

It has been two years and a half since the keel was laid and the works on the vessel started in Damen Shipyards Galati. For the size of the project that meant a tight schedule. The vessel measures 205 meters in length and 30 meters in breadth, with a total displacement of 28,000 tons, accommodation for 175 crew persons and up to 125 non-listed persons.

Alewijnse Marine Galati signed up to supply and install the cabling and cabling related steelwork, installing and connecting the electrical equipment and "loose" equipment. It meant an estimated total of 600,000 meters of cable (or 25,000 pieces of cable).

AMG took the challenge with eagerness and managed to pull 490,000 meters of cable onboard and perform 25,216 connections. The teams behind the numbers, one for steelwork, one for installing works and one for work preparation, will reach an estimated 120 persons onboard in the peak of the activities.

Because the vessel required strict quality enforcing, the company obtained separate certifications for welders, copper and fiber optic network certification for their installing teams.