New RoPax Design from KNUD E. HANSEN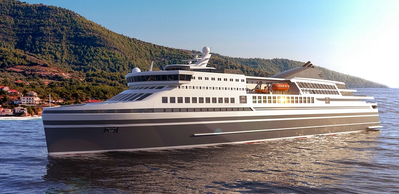 Danish ship design specialist KNUD E. HANSEN has revealed its newest, groundbreaking design, a 154-meter RoPax ferry that can transport up to 1500 passengers and 440 cars.
The vessel also features an additional 657 lane meters for trucks and trailers. The vessel has been designed to with flexible maneuvering and docking capabilities making it highly suitable for markets such as the Mediterranean region but it is also able to work in a variety of locations and under a range of operation conditions worldwide.

The vessel has a service speed of 25 knots and can operate close to optimum engine load even at slow speeds due to its diesel electric propulsion plant and azimuthing pods. The four engines have a combined power of about 48 MW and are fueled by marine diesel oil (MDO). There are also two tunnel thrusters located at the bow which, combined with the azipods, allow the vessel to move laterally without any forward or aft motion, thus greatly assisting mooring operations. There is also a large battery bank to power the vessel while dockside, allowing for zero emissions in port.

The vessel features two car decks below the Main Deck that are accessed via fixed ramps. The Main Deck gives priority to trucks, which can be loaded via an extra-wide stern ramp. There is also a dedicated passenger ramp astern with an escalator leading to the accommodation decks. Deck 4 is comprised of a hoistable car deck at the forward end spanning more than 50 meters that can be raised to allow for additional truck loading. Deck 5 includes an additional car deck accessed via a hoistable ramp on the starboard side.

Decks 5 through 7 are devoted to passenger accommodation and public spaces well suited for both day voyages and overnight passages. There are a total of 112 twin-occupancy, en suite cabins with the majority facing outboard. Deck 6 features a self-service restaurant, bar, two lounges, internet café, a reception and a shopping area. There is an open observation deck on Deck 5 forward as well as sun decks on Decks 6 through 8 aft, with extensive exterior seating.

The wheelhouse is located on Deck 8 along with 41 single-occupancy crew/officer cabins as well dining and recreation facilities for all staff. The vessel has two passenger lifts providing access to all vehicle and accommodation decks as well as one service lift. Unique to this vessel is a dedicated heli-pad located on the top deck.

The vessel is certified as a EuroClass Type A ship and is fully SOLAS compliant. The new vessel will have strict adherence to Safe Return to Port (SRtP) requirements through the inclusion of redundant, segregated power and propulsion systems as well as passenger safe havens and an auxiliary wheelhouse.