New Technology for Safer Tank Cleaning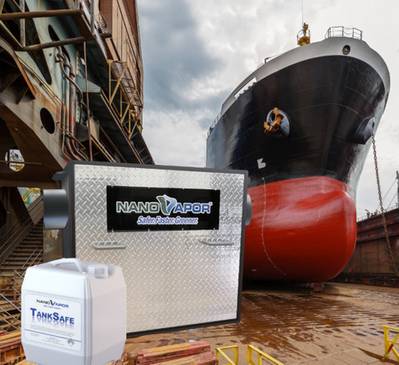 There have been a number of recent tragedies surrounding the cleaning of confined-spaces on board ships and despite there being very strict procedures, regulatory guidelines and instruction manuals in place regarding working in enclosed spaces, seafarers are still at risk of dying when cleaning out cargo tanks as enclosed spaces are frequently impossible to properly ventilate, their atmosphere difficult to measure, and the spaces themselves difficult to reach.
To address these concerns, Ecochlor and NanoVapor have jointly introduced a new process that reduces the time needed to achieve a gas-free condition in confined spaces by up to 90 percent, making tank cleaning, maintenance and inspections much safer and faster at the same time.

The new system consists of a liquid nano-suppressant and a hardware delivery unit: These components work together to produce and then insert nano-droplets of suppressant molecules into the fuel tank using a high-flow air stream. At nano-scale levels, droplets of the compound can rapidly stop the evaporation of volatile organic compounds (VOCs) throughout the tank. The system also works with residual fuel or sludge remaining in the tank, while fully preserving ambient oxygen levels for a seaman's safe entry. The nano-droplet technology is completely non-toxic, non-corrosive, non-reactive, and biodegradable, and is completely safe for human contact.

Andrew Marshall of Ecochlor said that the new technology will revolutionize tank cleaning and gas freeing of cargo and bunker tanks in preparation for dry dock or tank inspections for emergencies or maintenance and that additionally it can be used to facilitate faster tank cleaning procedures due to fuel switching for the new global sulfur cap regulations, thereby allowing vessels to get back to normal operation as quickly as possible.

The NanoVapor tank degassing technology is currently undergoing review for Lloyd's Register (LR) Type Approval.