New Tug Delivered to the Thai Navy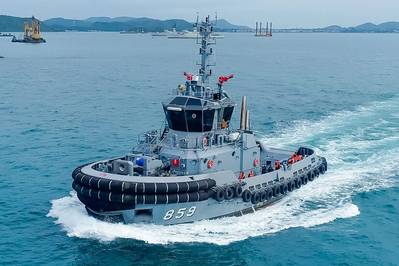 The Royal Thai Navy has taken delivery of the new tug H.T.M.S. Ta Chai built by Asian Marine Services PCL. The vessel, having already undergone sea trials, was officially handed over on August 21.
The newly completed RAmparts 3200-SD tug was designed by Canada's Robert Allan Ltd. to serve the navy's surface ships and submarines.
The design features a slightly wider hull form with improved features compared to two RAmparts 3200 tugs delivered to the Royal Thai Navy in 2017 and 2019 respectively.
Propulsion machinery consists of two MTU 16V4000M54 main engines with 1685kW at 1800 rpm rated power driving a pair of Schottel SRP 400FP Z-drive with a Ø2300 mm fixed pitch propeller. The fire fighting pump is driven by a MTU 12V4000M53R dedicated diesel engine, with 1140 bkW at 1600 rpm rated power. Electrical power generation is provided by a pair of MAN D2376 LE322 generator with a rated power of 200 ekW at 50 Hz and able to operate in parallel as required.
H.T.M.S Ta Chai is equipped with deck machinery, including a hawser winch at the bow; a towing hook on the aft deck. This major deck machinery equipment is provided by Fluidmecanica, Spain.
Fenders for ship-handling at the bow consist of two rows of cylindrical fenders and a lower course of W-fender. Sheer fendering consists of "D" rubbers and a W- fender at the stern. A few D-fenders are provided along the hull side underwater to provide protection working with submarines.
The accommodations have been outfitted for a crew of twenty including two cabins with living room of each for the master and chief engineer, mess, and a galley arranged in the deckhouse, and other crew cabins located on the lower accommodation deck. The wheelhouse is designed with a split type control station which provides maximum all-round visibility with exceptional visibility to the bow and side fendering, as well as operation on the aft deck.
The tug was designed and constructed to the following Lloyds Class Notation: ✠ 100A1, TUG, FIRE FIGHTING SHIP 1, ✠ LMC.
Key particulars:
Length, overall (excluding fenders): 31.5 m
Beam, molded: 12.6 m
Depth, least molded: 5.49 m
Maximum draft (navigational): 4.5 m
Gross tonnage: 497
Main tank capacities:
Fuel oil: 170 m3
Potable water: 30 m3
Ballast: 30 m3
Fire-fighting foam: 7 m3
Trial results:
Bollard pull, ahead: 55 tonnes
Free running speed, ahead: 13 knots