Nimitz Begins Sea Trials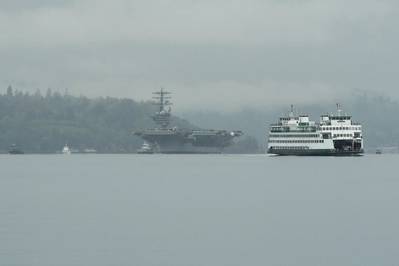 Sea trials for the newly refurbished U.S. Navy aircraft carrier USS Nimitz (CVN 68) commenced on October 5, following a 20-month Extended Planned Incremental Availability (EPIA) at Puget Sound Naval Shipyard in Bremerton, Wash.
Nimitz entered the shipyards in February 2015 for its fifth major maintenance period and completed the largest maintenance period to date without bringing the carrier into dry dock, according to Cmdr. Mark Yates, Nimitz chief engineering officer and native of Smithfield, Va.
"We've repaired and replaced quite a few systems," said Capt. John Ring, commanding officer of Nimitz. "It's been a great relationship over the last two years working with Shipyard Project Superintendent Brian Fazio and his team, dealing with the many challenges we've had in the yards."
During this period more than 14 major upgrades were made to Nimitz with more than 600,000 man-days of work accomplished by ship's force and civilian personnel.
"Teams from Combat Systems Department removed, refurbished and reinstalled over 150 antennas, saving over $3 million in contractor costs," said Cmdr. David Gast, Nimitz combat systems officer and native of Miami. "We've updated every element of the ship's satellite communication, and information processing suites were upgraded or replaced."
Combat systems also completely modernized the ship's Command, Control, Communications, Computers and Intelligence (C4I) capability with numerous upgrades. The ship's integrated network was updated to the new Consolidated Afloat Network Enterprise Services (CANES) system.
"It provides a more secure and robust system for the 21st century," said Yates. "This brings us on par with the most advanced IT systems comparable to the civilian world."
During the EPIA, modifications were made to the ship's defenses, adding two MK-38 anti-ship guns and an anti-torpedo defense system.
A rebuild of the ship's second service turbine generator was completed, as well as a complete overhaul of all four distilling units creating fresh water for the ship.
The interior of the ship wasn't the only focus of the makeover. Over 100,000 square feet of flight deck non-skid was removed, and the ship performed major repairs to the jet blast deflectors and ship structure.
Nimitz also implemented new training programs for its Sailors to get ready for sea and maintain at-sea readiness.
Nimitz was the first afloat command Navywide to implement the Navy Afloat Training Strategy (NAMTS) program. The program has earned Sailors critical naval enlisted classifications (NECs) that will allow Nimitz to make critical repairs on board without being contracted out.
"I'm excited to see the ship going into full operational mode again," said Petty Officer 3rd Class Dallymae Arce, a native of San Diego. "I've always heard stories about what being underway is like. It's nice to finally experience it on my own."
The work completed by shipyard and ship-force personnel will be reviewed in the coming months by the
Board of Inspection and Survey
(INSURV) Material Inspections (MI).
"We are working on the oldest carrier, and this is one of the most complex availabilities I think the Navy has seen in recent years," said Brian Fazio, the shipyard project superintendent. "We have had an incredible partnership with continued respect for one another, and we worked hard to get our work done safely."