NOAA: $2.7M for Marine Trash Studies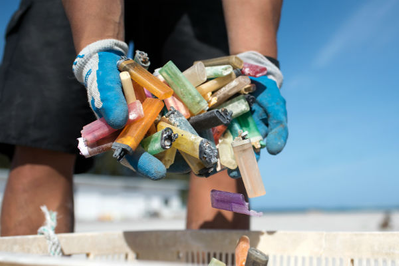 NOAA announced a total of $2.7 million in grants supporting 14 projects to address the harmful effects of marine debris on wildlife, navigation safety, economic activity, and ecosystem health. With the addition of non-federal matching contributions, the total investment in these marine debris projects is more than $5.2 million.

The grants, selected competitively from 82 community-based marine debris removal and research proposals received this year, are spread across 10 U.S. states and territories and 2 federally recognized tribes. Ten marine debris removal projects will receive a total of $1.5 million, while four research programs will receive a total of $1.2 million.
"Marine debris removal and research efforts have both immediate and long-term benefits for local communities, regional interests, and the American Blue Economy," said retired Navy Rear Adm. Tim Gallaudet, Ph.D., assistant secretary of commerce for oceans and atmosphere and deputy NOAA administrator. "Marine debris is a pervasive national and global challenge, and NOAA is proud to support these projects to protect and better understand the impact of marine debris on our coastal habitats, waterways and wildlife."
Among the projects selected are the removal of 30,000 pounds of marine debris from shoreline and beach habitat in St. Paul Island, Alaska; the removal of 441,000 pounds of medium-to-large debris at two critical salt marsh sites in the New York City borough of Queens; and research by Rutgers University in New Jersey to study how microplastics move from rivers to the ocean, and how they may enter the food chain.
Approximately $1.5 million in grants will support 10 community-driven removal projects in Alaska, the Aleut Community of St. Paul Island (Alaska), California, Guam, Louisiana, New York, North Carolina, the Swinomish Indian Tribal Community (Washington) and the U.S. Virgin Islands. The grantees will implement locally based, cost-effective activities to remove marine debris, including derelict fishing gear and abandoned and derelict vessels. Approximately $1.2 million will support four marine debris research projects in California, Delaware, New Jersey and Virginia. These projects address ecological risk assessment and the fate and transport of marine debris.