STX France Wins 'Oasis-class' Cruise Ship Contract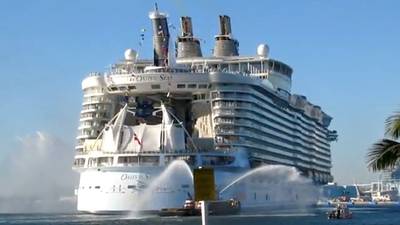 Royal Caribbean International chooses STX France to build its third 'Oasis- class' ship.

This, the third ship of the Oasis- class, is due for delivery in mid-2016, and an option for a second ship due in mid-2018 is also provided for in the contract.

"The Oasis of the Seas and Allure of the Seas have fundamentally transformed the cruise experience for our guests," said Richard D. Fain, chairman and chief executive officer of Royal Caribbean Cruises Ltd. "These ships have consistently generated outstanding guest satisfaction ratings and continue to produce superior financial results. We are thrilled to be adding a sister to this extraordinary class of vessels at a compelling price. Being back building in France just adds to the pleasure."

This contract is worth 10 millions working hours distributed over more than three years. Studies will start in January 2013, while production is planned to start in September the same year.

"We are extremely proud to have been selected by Royal Caribbean International to build this third unit, which is a real challenge to our yard.Royal Caribbean has always been an important part of our shipyard's success as we have built twelve of their vessels. We are eager to start," declared Laurent Castaing, STX France Managing Director.

361 metres long and 66 metres wide, this ship is one of the biggest ever built in Saint-Nazaire. Oasis of the Seas and Allure of the Seas are indeed the largest and most revolutionary cruise ships in the world. Architectural marvels at sea, they span 16 decks, encompass 225,282 gross registered tons, carrying 5,400 guests at double occupancy, and feature 2,700 staterooms.