Marcon Brokers Sale of Ocean-Going Tugboat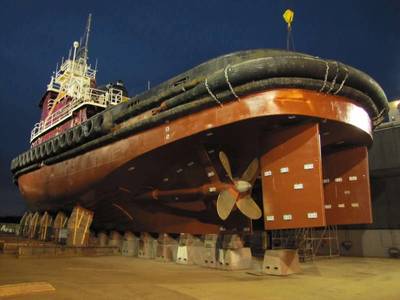 Marcon International, Inc. of Coupeville, Washington, says it has sold the U.S. flag ocean-going twin screw tug "Melvin E. Lemmerhirt" to U.S. buyers on a private & confidential basis.
The 3,900BHP tug was built in 1973 for Great Lakes Dredge & Dock Co. as one of the company's largest tugs by Southern Shipbuilding of Slidell, Louisianaas Hull No. 102. Southern Ship always had a reputation of building fine tugs, building their first in 1903.

The shipyard was originally established by Fritz Salmen in the 1880s, becoming Slidell Shipbuilding in 1914 and Canulette Shipbuilding in 1919. After passing through several hands, it was renamed Southern Shipbuilding in 1957. The yard was eventually closed and the site razed in 1993.

Principal dimensions
125.0' x 32.0' beam x 17.9' depth, an 18' loaded draft and a minimum air draft of 60' due to her upper pilothouse.

The vessel is powered by a pair of EMD 16-645E6 diesels developing a total of 3,900BHP at 900RPM driving 4-blade fixed pitch open wheels through Falk gears. Towing gear consists of a Markey double drum TDSD-36 winch with 2.25" wire. Towing gear consists of a Markey double drum TDSD-36 tow winch with 2.25" wire.

In 2004, "Melvin E. Lemmerhirt" completed a major seven-month long capital restoration project including replacement of over seventy-one tons of steel; major overhaul of the winch and main engines; new fendering, watertight doors and bitts; interior upgrade and complete sandblasting and coating.

The tug was drydocked in November 2013 with a 5 year ABS loadline renewal completed and in very good condition at time of sale says Marcon.

Marcon adds that so far this year it has concluded eighteen sales and charters with several additional pending.