Offshore Drill Ships Start Work off Vietnam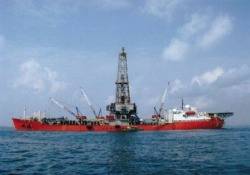 Northern Offshore, Ltd. semi-submersibles Energy Driller and drillship Energy Searcher have commenced operations off Vietnam coast.
The Energy Searcher went on dayrate under the contract with the Joint Operating Company Vietgazprom, a joint venture between Petrovietnam and Gazprom, ("VGP") for their drilling program offshore Vietnam on April 6, 2012. The duration is for a four-well program expected to last approximately 100 days per well. The estimated contract value is approximately US$72 million.
The Energy Driller commenced the contract with ONGC for their three-year drilling program offshore India on April 19, 2012. The estimated contract value is approximately US$230 million.
Northern Offshore, Ltd. is a Bermuda holding company which operates offshore oil and gas drilling units and one production vessel in various markets around the world, including the North Sea, the Indian Ocean, the Mediterranean Sea and Southeast Asia.
The company's fleet consists of five drilling units (a drillship, a semisubmersible and three jackup drilling rigs) and one floating production facility.