Online Hook Inspection Courses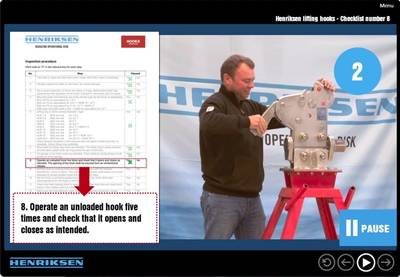 Henriksen Hooks of Tønsberg, Norway, believes that the maritime world is becoming a little safer thanks to the take-up of its hook inspection training courses. In February, Henriksen introduced an online training course that enables customers to perform their own annual product inspections.
Since then, the company has been surprised by the number of individuals who have completed the course, thereby ensuring that their Henriksen boat lifting hooks remain safe for use.
In what is believed to be a first for SOLAS regulated lifting gear, users of Henriksen Hooks have been able to undertake the on-line training course that teaches them how to inspect their products for safety-critical defects. They are then qualified to submit a completed check-list that details the condition of the various Henriksen products that they own. These may include any from the Henriksen range of off-load lifting hooks, towing hooks and painter hooks. When the inspection check-list has been received and approved by Henriksen the hook will deemed to comply with SOLAS regulations.
The online course combines clear graphics, animation and video clips with a straightforward English commentary that makes it interesting and easy to follow for non-native English speakers. It takes about two hours to complete and shows the student how to inspect any hook in the Henriksen range. This includes direction on what to look for during a visual inspection such as structural deformation, welding cracks and defective springs. If the student can submit a report to confirm that the hook is free of defects Henriksen will issue its annual approval. To renew their warranties all hooks must still be given an in-depth inspection in the Henriksen factory every five years but the course is a money-saving benefit until then.