Panama Canal Announce Results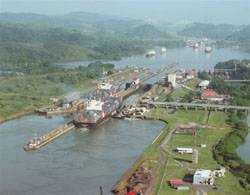 The Panama Canal Authority (ACP) announced its operational metrics for the 2008 fiscal year (FY 08). Year-end (October 2007 – September 2008) statistics reveal a marginal decline in total transits and tonnage when compared to FY 07. However, the Canal also experienced growth in core segments, most notably tanker and passenger transits.
transits remained fairly constant, with a slight decline of 0.1 percent – from 14,721 to 14,702 transits. Booked transits (excluding auctioned slots) increased 3.9 percent – from 7,857 to 8,167 transits. Panama Canal/Universal Measurement System (PC/UMS) tonnage decreased 1.1 percent – from 312.9 million PC/UMS tons to 309.6 million PC/UMS tons.
Tanker traffic jumped this year by 4.8 percent – from 1,972 to 2,067 transits, mainly as a result of stronger movements of petroleum from the U.S. Gulf coast to for electricity generation as natural gas supplies coming from were suspended. Tanker tonnage also increased 8.6 percent. The Canal also saw an increase in passenger vessel transits – up 17.6 percent from 205 to 241 transits due to higher frequencies of smaller cruise ships. Transits by dry bulkers were slightly up from 2,406 to 2,420 transits. While on the other hand, container transits dropped from 3,622 to 3,544 in FY 08.
Canal Waters Time (CWT), the average time it takes a vessel to navigate the Canal including waiting time, increased 13.3 percent. The surge in arrivals during maintenance performed on the Pedro Miguel and Miraflores locks augmented CWT during the second quarter of FY 08. This increase influenced the year-end total –from 27.84 to 31.55 hours. For booked vessels (those ships holding reservations), CWT rose 8.3 percent – from 17.09 in FY 07 to 18.52 hours this year.
Booked vessels account for more than 60 percent of oceangoing transits, and utilization of the booking system in FY 08 dropped to 92.73 percent from 94.98 percent in FY 07. In response to the customers' request for additional booking slots, in February the ACP increased the number of booking slots available on a daily basis from 25 to 27.
The official accident rate rose from 0.68 accidents per 1,000 transits in FY 07 to 1.09 accidents per 1,000 transits this fiscal year although total incidents dropped from 119 in FY 07 to 84 in FY 08. An official accident is one in which a formal investigation is requested and conducted.