BAE Ocean Patrol Vessel Handed Over to Brazil Navy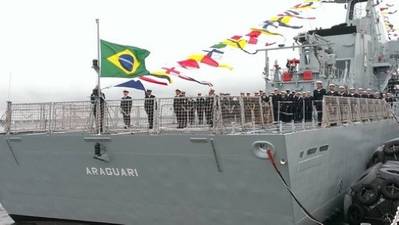 'Araguari', the third of 3 Ocean Patrol Vessels built by BAE Systems, is handed over to the Brazilian Navy in a ceremony at Portsmouth Naval Base UK.

Employees joined guests from the Brazilian Navy and UK Royal Navy, to watch as members of the ship's company raised the ensign for the first time, formally marking the handover of the Brazilian Navy's newest vessel. 



Mick Ord, Managing Director of BAE Systems Maritime - Naval Ships business, said: "We are extremely proud to deliver Araguari. She is a highly capable ship, and with her sister ships, will be a great asset to the Brazilian Navy.

 "We have written a new chapter in BAE Systems' relationship with Brazil with the completion of the Amazonas class of ships. We look forward to continued partnership with the Brazilian Navy for many years to come."

The Ocean Patrol Vessels will provide Brazil with enhanced maritime capability. With a 30mm cannon and two 25mm guns, as well as two rigid inflatable boats and a helicopter flight deck capable of landing a medium-sized helicopter, the ships are ideal for performing maritime security in Brazil's territorial waters, including the protection of the country's offshore oil and gas reserves.

The vessels accommodate a crew of 80, with additional accommodation for 40 embarked troops or passengers and ample deck space for container storage.


The three ship contract, announced in January 2012, also includes a manufacturing licence to enable further vessels of the same class to be constructed in Brazil, helping to support the country's naval re-equipment programme and strengthen its maritime industrial capability.