Cleveland Reports Persistent Cargo Growth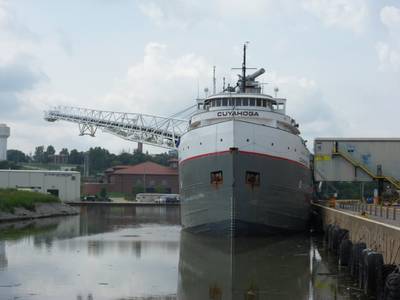 Buoyed by increasing returns from its creation of the Cleveland-Europe Express (CEE) liner service, the Port of Cleveland continued to see record numbers in August, particularly in containerized cargo, the port announced.
While numbers for containers were up 300 percent through June, traffic has continued to accelerate at an even greater pace since, according to the port. Compared to figures through August 2014, this year's increase now stands at 475 percent.
The overall growth produced by the CEE is "quite exceptional and a breakthrough in St. Lawrence shipping,"
said Betty Sutton
, administrator of the U.S. Saint Lawrence Seaway Development Corporation (SLSDC). The SLSDC recently recognized the port's uptick in shipping through the Seaway with a
Robert J. Lewis 2014 Pacesetter award
.
"The nearly five-fold increase in containerized cargo shows that the port is achieving the vision behind the Cleveland Europe Express," said Will Friedman, Port president and CEO.
"Our research and analysis indicated that Northeast Ohio and
Great Lakes businesses
would use a direct, scheduled international maritime service to compete globally. That's why the Port created the CEE, and the market's acceptance of the service is proving the investment was the right course."
Operated by Dutch ship owner Spliethoff Group, the CEE provides the
Great Lakes economy
direct maritime access to European markets, with ships calling in Cleveland at least twice monthly.
That unique service has given Northeast Ohio greater access to and the ability to compete in the global marketplace. It has also proven critical in generating increased traffic through the Port of Cleveland this year.
"The direct international connection the CEE provides has largely driven the surge in containers" said Dave Gutheil, Port vice president of maritime & logistics, who explained that last year, the CEE attracted mostly break-bulk cargo, including larger freight like machinery.
"This year, we're keeping that break-bulk business while greatly expanding into the container market."