Philippine Shipyard to Build 10 Container Ships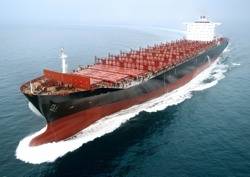 Hanjin Heavy Industries & Construction's Philippine Shipyard wins contract to build mid-size container ships for European owners
Despite the current global economic slowdown, Hanjin Heavy Industries & Construction (HHIC)-Phil's Subic Shipyard has won a bid to build mid-size container ships for the first time this year.
The shipbuilder recently announced that it has signed a USD 450 million contract to build ten 5,000TEU container 
ships (options included) with ship owners in Europe.
These days, large vessels have been the mainstream in the container ship 
market with little demand for mid-size container 
ships (5,000TEU). Because of high expectations of an economic recovery and excessive bidding for very large container ships, mid-size container ships have become more popular.
HHIC says that it hasn't been able to win a decent bid since early last year. Based on recently dramatic improvement in cost 
competitiveness, however, HHIC-Phil's Subic Shipyard has finally been able to win this bid.
The container ships HHIC-Phil's Subic Shipyard have signed up to deliver are 255m 
in length, 37m in width and 22m in depth with a speed of up to 21.5 knots. They are to be state-of-the-art, environment-friendly ships.