Phoenix Debuts New Marine-rated LED Floodlights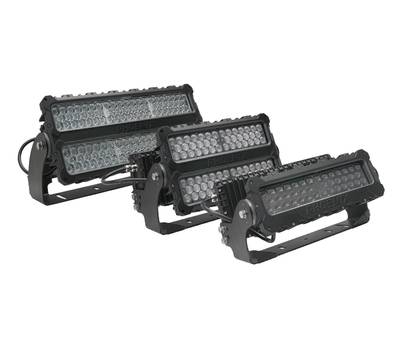 Milwaukee, Wis. based Phoenix Lighting has unveiled its new series of corrosion resistant, maintenance free, U.S.-made above-deck lighting for the maritime industry.
According to Phoenix, the new ModCom 3 family of floodlights provides more light for less cost with powerful, efficient illumination. The ModCom 3 is offered in three sizes, LO, HI, and MAX, emitting 15,000, 30,000, and 52,500 lumens, respectively. The three sizes allow for use in all waterline perimeter, above-deck, dredging, flanking, portal crane, and hazardous applications on both inland and ocean vessels.
Operator and shipyard feedback guided Phoenix's engineering process for the third generation ModCom. Its robust construction features a cast aluminum housing and powder-coated steel mounting bracket for maximum corrosion resistance. The fixtures are IP67, UL1598A, ABS certified, and passed rigorous testing to survive extreme corrosion, vibration, and hazardous conditions. A variety of mounting brackets allow for it to be easily installed, regardless of the existing fixture or mounting.
A key innovation of the ModCom 3 is a patented "no-glare" optic option that eliminates glare to captain, crew, and passing vessels, Phoenix said. It also is offered with a variety of optic options including wide flood, medium flood, and spot, making it the fixture ideal for any vessel type.
Improved heat dissipation allows the floodlights to be rated for high temperature applications up to 60°C and an optional Amber model improves visibility in high fog/dirt conditions. The ModCom 3 is designed, engineered, and manufactured in Milwaukee, Wis., and available from Phoenix's nationwide network of marine distributors.