New Pilot/Tugboat for Tianjin Port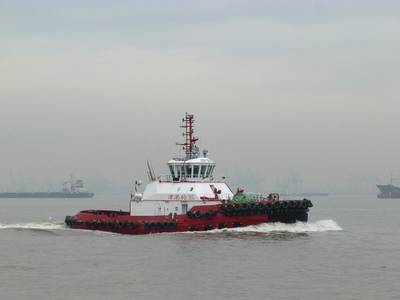 Early in 2015, Tianjin Port in the north part of China took delivery of a new ASD 38/60 Class pilot/tugboat,
Jin Gang Lun
35, from the
builder Shanghai Harbor Fuxing Shipping Service Company
, after the delivery of two ASD 35/80 class tugs from the same shipyard in 2013. All three vessels were designed specifically for the Tianjin Port Authority by Robert Allan Ltd., naval architects of Vancouver, Canada.
Different to her two predecessors, the hull form of the new tug was developed from the RAstar series for better seakeeping performance, due to her duty of transferring pilots, the designer noted. The Jin Gang Lun 35 is classed and built according to the Chinese Classification Society with the following notation: CSAD, Tug, Greater Coastal Service, Ice Class B
The tug is fitted with a firefighting system to fulfill the requirements for Fire Fighting 1, although the owner elected not to obtain that specific class notation.
Particulars of the Jin Gang Lun 35 are as follows:
Length overall: 38 m
Beam, molded, extreme: 12.80 m
Depth, molded (hull): 5.74 m
Maximum draft: 4.2 m
Major tank capacities are as follows:
Fuel Oil: 225.0 m3
Potable Water: 33 m3
Foam: 21 m3
On trials, Jin Gang Lun 35 met or exceeded all performance expectations, with the following results:
Bollard Pull, ahead: 62.1 metric tons
Free running speed, ahead: 14.5 knots
The vessel has been arranged and outfitted with 15 crew berths in total. However, the maximum number of crew on the same shift is up to 14. The master's cabin and a two-crew cabin are located on the second deck (upper level of deckhouse); the Chief Engineer's cabin is on the main deck, with an additional four private crew cabins located on the lower accommodation deck (two doubles and two four-person cabins). A fully appointed mess/lounge and a modern fully-equipped galley are also located on the main deck.
The tug is designed to provide a pilot transfer service between the anchorage and terminals, particularly in severe weather. A pilot boarding area is provided at each side on the forecastle deck. A pilot room is arranged on the second deck.
The vessel's deck machinery consists of two ship-assist hawser winches forward, and one towing winch on the aft deck for coastal towing service. Ship-assist service will be carried out through a specially designed staple which accommodates two fairleads. A capstan is also provided on the aft deck.
The wheelhouse is designed for maximum all-round visibility with a forward control station providing maximum visibility to both fore and aft deck working areas.
Main propulsion for each tug comprises a pair of Yanmar 6EY26 diesel engines, each rated 1,840 kW at 750 rpm, and each driving a Rolls- Royce, US 205 P20 controllable pitch Z-drive unit, in ASD configuration.
The electrical plant comprises three identical diesel gen-sets, each with a power output of 100 ekW.
Ship-handling fenders at the bow consist of two rows of cylindrical fender at the main deck level, one 700 x 350 and one 600 x 300. A 600 x 400 "M" block fender is arranged below the cylindrical fenders. A 400 x 400 hollow "D" fender provides protection at the main and foc'sle deck sheer lines, and a 500 x 250 cylindrical fender is used at the stern.