DMCA Seeks Best Safety Practices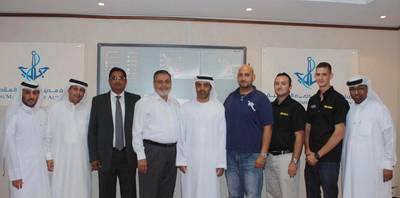 Dubai Maritime City Authority meets jet ski operators to discuss ways of improving maritime safety in line with best practices.
As part of the continuous cooperation between various public and private sector entities in Dubai, Dubai Maritime City Authority (DMCA), the government entity in-charge of regulating and supervising all aspects of the maritime sector in Dubai, recently met several jet ski companies and agencies in Dubai. This initiative reflects DMCA's keenness to implement best practices and get a comprehensive understanding of the requirements of the private sector, as well as achieving greater maritime safety and security in the waters of Dubai, in line with best international practices during the use of jet skis.

During the meeting, DMCA's representatives discussed the concerns of the jet ski operators and focused on ways to address these issues. The meeting also discussed the allocation of specific areas for the use of jet skis in various beaches of Dubai, and other key topics, such as Slip Ways, maritime safety and speed limit for jet skis. Further, the meeting discussed the issue of registering jet skis in showrooms, in order to facilitate and accelerate the registration process. The maritime authority announced that it will reveal further details in the near future.

Representatives of jet ski companies and agencies thanked the authority for its genuine interest in their issues, while committing their full support to the initiatives of DMCA that are designed to promote mutual understanding and trust between all parties in Dubai and enhance maritime safety and security according to the best international practices.

"We are pleased to meet representatives of jet ski companies and agencies in Dubai to discuss key issues affecting water sports activities in Dubai, mainly the allocation of areas for the use of jet skis, according to the highest standards of safety, as well as facilitating and accelerating the registration process of jet skis in showrooms, and other important topics," said Amer Ali, CEO of Dubai Maritime City Authority. "This meeting is in line with our continuing interest to ensure maximum safety during marine activities, both for the people and the environment, through the implementation of best international practices for the development of a safe and sustainable marine environment in Dubai. We look forward to intensifying joint efforts in the near future to achieve the desired goals," he added