SMM 2016: World Premieres from around the Globe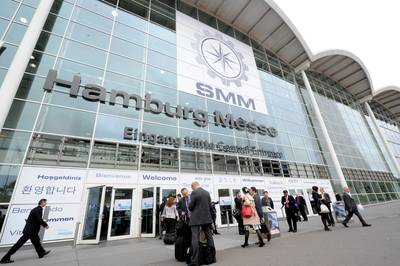 Some 50,000 trade visitors from the whole of the world are expected in Hamburg for the start of SMM in less than two weeks. And once again, it is fully booked – with a total of more than 2,150 exhibitors from 67 countries, presenting their most innovative products and services. "SMM will live up to its reputation as the pacemaker of the industry again, with exhibitors from every part of the maritime value chain and a high-quality conference program," says Bernd Aufderheide, President and CEO Hamburg Messe und Congress GmbH.

One of the keys to the success of SMM has always been the enormous innovative power of the companies participating. SMM features exhibitors of all kinds, from market leaders to young start-ups, with two thirds of them based outside of Germany. They will present their latest technologies and services, and in many cases exclusive world premieres. Excitement is building up – "The tremendous challenges within the maritime industries make SMM a key indicator and trendsetter. It is presenting today the course that the industry will take tomorrow," says Bernd Aufderheide.

Solutions at all levels
Powerful, environment friendly marine engines, navigation systems giving maximum precision, innovations in shore power supply, and smart water processing systems – these are just some of the areas where the maritime industry is optimizing, renewing and inventing. Digitization is naturally a major topic, and "Green Propulsion" plays a major role. Space at the fair has been specially expanded, adding 3,500 square meters dedicated to innovative propulsion technologies. The focus there will be on liquefied natural gas (LNG) as a marine fuel. Exhibitors in this area include Hybrid Port Energy, a subsidiary of Becker Marine Systems. The innovative LNG Hybrid Barge, a floating power station to supply cruise ships in port with electricity, is already in successful operation. The latest highlight is the modular special-purpose container LNG PowerPac, developed for power supply to container ships. Both of these product developments can give significant reductions in emissions such as NOX, SOX and CO2.

Clean power solutions are also presented by MTU, a manufacturer which belongs to Rolls-Royce Power Systems. This year, the company will present an LNG marine engine for the first time. The 16-cylinder variant covers a power range from 1,500 to 2,000 kilowatts. "We are convinced that LNG engines will become more and more important to complement the proven diesel engines in shipping," says Dr Ulrich Dohle, Chairman of the Board of Rolls-Royce Power Systems. The first series-manufactured LNG engines are to be delivered from 2018 onwards. An exclusive first will be presented in advance at SMM. Rolls-Royce will also exhibit new propulsion systems for commercial, offshore and public service vessels, and for private yachts.

RWO, a part of the Veolia Group from France, one of the world's leading maritime water processing systems, will present the CleanSewage Bio biological maritime waste water treatment system, which is particularly space saving, low-maintenance and easy to operate. RWO also presents its SRO-COM desalination system, featuring high energy efficiency thanks to a new type of membrane. Another highlight of the RWO stand will be the OWS-COM oily water separation system, the world's leading product in its category with a total of more than 14,000 installations.

More performance, less maintenance
The search for greater efficiency is one of the drivers of new inventions and further developments. That certainly applies to Raytheon Anschütz, the world's leading supplier of navigation equipment. This subsidiary of US defence and electronics company Raytheon presents the Synapsis NX INS-architecture. It is based on modern network infrastructure, modular software and the new Small Marine Computer, which serves as the standard for all workstations and bridge applications. The special features here are new applications and operating concepts, and better integration on the bridge.

Siemens has a logistics concept based on a modular container solution to accelerate maintenance work in dock. A standard seafreight container is individually fitted for the repair and maintenance requirements. This mobile ship service workshop includes standard and special-purpose tools, and also air-conditioning and heating equipment and special lighting systems so that service engineers are equipped for every work environment on site. The effect is impressive – cutting maintenance time by up to 15% and substantially reducing risk during maintenance work. Siemens presents this container at SMM in the outside space in front of Hall B6.

Safety and navigation
High-ranking representatives of navies and coastguards are expected to attend SMM, as usual. They make presentations in the exhibition halls on the latest developments for more security at sea. The German Armed Force (Bundeswehr) for example have announced three exhibits. The "airborne reconnaissance drone for close area imaging (ALADIN)" provides real-time airborne reconnaissance and surveillance with a range of about five kilometers. The specially developed stability calculation software for all ships and vessels of the German Navy will also be presented live. A special feature for combatting cyber risks will be presented by the classification society DNV GL – the Cyber Quick Check application helps to protect fleet software and ship systems from potential attacks. The range of products includes further apps, e.g. for comparison of the individual energy efficiency of ships with global fleets, or for information on LNG in shipping.

The Fraunhofer Transport Alliance provides its combined know-how at SMM again with a joint stand run by seven of its organizations. The researchers present an autonomous navigation system including modules for bad-weather navigation and collision avoidance, and a Crew Compliance Optimizer, which simplifies the complex administrative operations for putting together the crew and work schedules.

The industry needs to re-invent itself, said Martin Stopford, a prominent shipping expert, at the recent advanced press conference for SMM. Exhibitors at world's leading maritime trade fair will show that they take a leading role in doing that. Their innovations are making shipping fit for the future.