Great Lakes 2013 Shipping Preparations Begin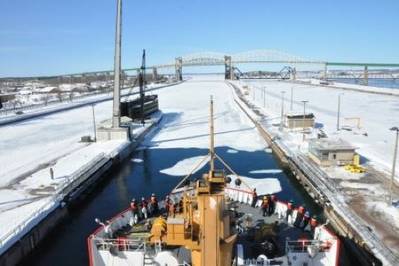 The Coast Guard Cutter 'Mackinaw' breaks ice in Western Lake Superior in preparation for the upcoming shipping season.
The Mackinaw (WLBB-30) is the only U.S. heavy ice breaking resource assigned to the Great Lakes and in addition to heavy icebreaking other missions of the crew include servicing buoys, search and rescue, law enforcement, and the ability to deploy an oil skimming system to respond to oil spill situations.

The 240-foot Icebreaker is homeported in Cheboygan, Michigan
In the photo the Mackinaw is seen passing through the Poe Lock, one of five locks that make up the Soo Locks in Northern Michigan; the Coast Guard cutter was the first ship through the Poe Lock since it closed for annual maintenance in January.