UK MCA Trainee Award to Princess Cruises Man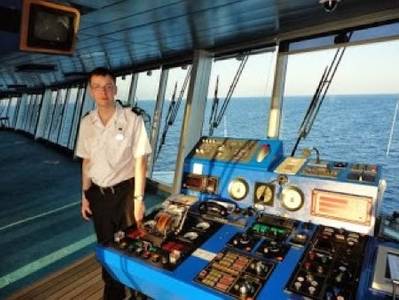 Philip Cave, from Fleetwood Nautical College, whose training company is Princess Cruises, has been recognised for his dedication and achievements throughout his training by the award of this year's Maritime and Coastguard Agency (MCA) Trainee Officer of the Year award.
The award aims to encourage and recognise quality within the maritime industry. Nominations are made by nautical colleges alongside the trainee's sponsoring company. The winner is decided by a panel of judges, including representatives from the MCA and other industry figures.

Philip said: "Ever since I was invited onto the bridge eight years ago whilst on a cruise, I have wanted to be a Deck Officer, and qualifying as a 3rd Officer makes me feel that I have achieved my goal. I would like to thank my lecturers for their tireless and continuous support and Princess Cruises for giving me a First Class Cadetship. I know I have a great future to look forward to as a fully qualified officer with the company."

Philip Naylor, Director of Maritime Safety and Standards at the MCA, said:
"In presenting this award to Philip Cave, the MCA is absolutely delighted to recognise the enthusiasm, commitment and positive attitude that he exhibited at all stages of his training. These are qualities that will help to shape the future leaders of our maritime industry in the UK and which will ensure that we can maintain the UK's position of global leadership in maritime business."

The award was presented at the Marine Society and Sea Cadets Ninth Annual Court in London by Shipping Minister, Stephen Hammond MP.