Maritime Professionals See the Future Coming Fast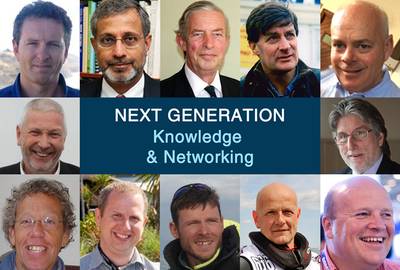 Maritime professionals from all sectors operating sub IMO / sub 80 feet vessels are invited to participate in three one-day NEXT GENERATION Workshops. The dynamic program is being held at the Grand Harbour conference venue, overlooking the port of Southampton U.K., on October 24, 25 and 26, 2017.
The NEXT GEN Workshops each address aspects of operational safety for vessels, along with the safety and welfare of their crew and passengers. The high level group of presenters brings a wide range of experience and expertise from sectors including workboats, ports, security, search and rescue and defense.
The workshops will examine emerging technology compared to traditional methods. Workshop lead, John Haynes said, "Maritime industry is steeped in tradition with a long history of changing slowly – but not anymore! The future is arriving faster than expected, but how do we identify genuine improvements compared to novel ideas that simply do not belong at sea. Our approach is to bring together a group of experts to consider what really works on a dark and stormy night."
Day 1 - Shock Mitigation Solutions Workshop theme considers 'How Shock Mitigation By All Means Improves Efficiency.'
Topics look beyond simply complying with vibration directives or unrealistic health and safety objectives that are hard to apply in the maritime workplace. Presenters include:
Jonathan Lewis - Maritime Command, Border Force: 'The Challenges of Building Fleets for Evolving Maritime Roles'

Dr. Tom Gunston - Seat Testing Working Group, ISO Standards: 'Update on ISO Standards for Boat Seat Performance Testing and Next Steps'

Hans van der Molen - Head of Technical Projects & Innovation, KNRM (Netherlands Lifeboat): 'Comparing Lateral and Vertical Accelerations between Nh1816 and Arie Visser Class'

Dr. Thomas Coe - Senior Consultant, Frazer-Nash Consultancy / Naval Design Partnership: 'The Future of Shock Mitigation Testing - Getting from Anecdote to Evidence'

John Haynes - Managing Director, Shock Mitigation: 'How Maritime Organisations can Develop a Holistic Approach to Shock Mitigation By All Means'
Day 2 - RIB and High Speed Craft Workshop theme looks at 'Boat and Equipment Procurement in a Changing World.'
Topics include Commercial Off The Shelf (COTS) solutions, through life support of fleets and balancing the need for speed with reliability and durability. Presenters include:
Professor Ajit Shenoi - Director, University of Southampton Marine & Maritime Institute (SMMI): 'GMTT 2030 - Global Marine Technology Trends for the next decade and beyond'

Adam Younger - Senior Naval Architect, Adam Younger Design: 'How do traditional versus innovative materials affect design and structural limitations?'

Tony Birr - Director, Century Maritime: 'Selecting Effective Craft to Fulfil Multiple Maritime Functions in Port and at Sea'

James Fanshawe - Chairman, Maritime Autonomous Systems Regulatory Working Group: 'Unmanned Surface Vehicles (USV) go from Concept to Service'

Russell Marmon - International PWC Champion, Professional Engineer : '20 Years Experience of Preparing Extreme Watercraft for Endurance Racing and Passages'

Alan Priddy - British Global Powerboat Round The World Record Team: 'Selecting Vessel and Equipment to Break 24,000 mile Circumnavigation Record of 61 days'
Day 3 - Systems Safety and Equipment Workshop focuses on 'Identifying and Avoiding Single Points of Failure at Sea.'
Improving situational awareness is an emerging theme. Design led redundancy is essential for critical tasks including power, navigation and communications. Presenters include:
Iain Wallbridge - Senior Naval Architect, RNLI (Royal National Lifeboat Institution): 'Designing Redundancy into Vessels for Critical Tasks'

Captain Andrew Moll - Deputy Chief Inspector, Marine Accident Investigation Branch (MAIB): 'How All Marine Sectors can learn from Accidents & Incidents - including Points Of Failure'

Captain Don Cockrill - Secretary General, UK Maritime Pilots Association (UKMPA): 'Maritime Situational Awareness - Science Art or Myth?'

John Haynes - Managing Director, Shock Mitigation: 'Why Fundamental Seamanship and Basic Navigation Methods Still Matter'
The unique knowledge gained from presentations and panel discussions will help to shape decisions that lead to improvements for in-service equipment and procurement.
John Haynes added
, "When groups of maritime professionals get together their shared knowledge and experiences can improve both the performance of their organizations and the broader seafarer workplace."
NEXT GEN Workshop days are relevant to workboats, pilot boats, patrol boats, search and rescue, survey vessels, wind farm support, superyacht tenders, training and charter vessels. Attendees include professional and military organizations, boat builders, equipment manufacturers, service providers, classification and standards organizations.
Supporters of the event include British Marine, SSA, UK Maritime Pilots Association, Southampton Marine & Maritime Institute, University of Southampton, SKYDEX, Scot Seats, SHOXS, Grammer Nautic, Shockwave, Spinlock, 3Si, Ocean Safety, Dyena.
To register, contact: julie@shockmitigation.com