Air Supported Monohull with Pod Propulsion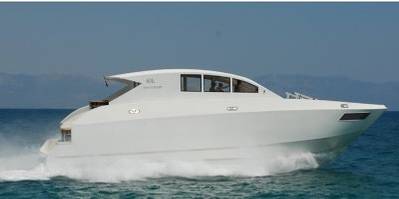 Effect Ships International AS, Sandefjord, Norway has just launched their first Air Supported Vessel (ASV) monohull with pod propulsion. The patented ASV technology is the result of more than eight years of R&D, resulting in a full scale 65.6 ft x 17.7 ft test-vessel for demonstration and proof of concept.

Up to 80% of the vessel's operational weight is supported on a cushion of pressurized air. Wetted surface area and friction between hull and water is reduced significantly. The size of the engines to propel the ASV's can be reduced monumentally compared with the market leading conventional vessels of same size and performance. Whereas 2 x 1200 – 1360 HP (2.400 – 2.720 HP) is the norm for 65 ft pleasure boats with cruising speeds of around 30 knots, the ASV Mono test vessel has only 2 x 435 HP for propulsion. In addition approx 80 - 120 HP, depending on sea conditions, is required to power the lift fan. Fuel consumption is equally astonishing. At approx 30 knots speed the market leading international brands are using 11 – 13 liters pr Nautical Mile – the ASV Mono consumes only 5.7 liters in total (propulsion and lift fan power). Not only is this excellent economical news for the owner/operator of the vessel, it is certainly also amazing for the environment. Reducing the emissions pr travelled distance by a staggering 50% represents a technological shift.

The ASV mono test vessel is using two small Volvo Penta IPS 600s. Pod propulsion combined with the new patented air supported vessel configuration is an ideal match. The installation of the driveline and lift fan system is extremely compact and requires modest space, leaving more than normal volume and space free for interior accommodation. The new ASV's handles very well, the air cushion systems dampens the ride in waves and secure very good onboard motions. In harbor no bow thrusters will be required; the joystick operated pod propulsion can handled the vessel in most situations.

The ASV Mono concept has excellent scaling properties and will be suited for vessels from 42-50 ft in length upwards to 164 ft and more. The air support is active from standstill and contributes to almost no "hump". The acceleration from standstill through to 20 – 25 – 30 knots is very fast due to the markedly reduced hull water resistance. The wake wash is equally impressive, due to the high level of air cushion support the vessel rides high in the water with almost no trim and the resulting wake wash is considerably less than most other vessels. Depending on vessel configuration and size the ASV and pod propulsion combination will be just right for vessels with cruising speeds between 20 and 40 knots.