STADT AS New Propulsion System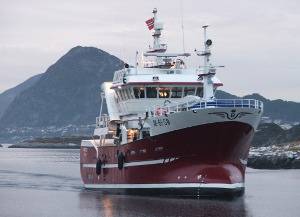 STADT AS has a gained a foothold in both the offshore and fishing fleet with a new diesel electric propulsion system. The company is located in Gjerdsvika at the Northwest coast of Norway, and has patented a new solution based on Sinus-technology.

"This is sustainable technology, and we are definitely on track," says Hallvard Slettevoll, president of STADT AS.

For more than seven years the company has worked to develop a diesel-electric propulsion system with the goal of reducing the load on the environment and improving the operating economy of ships. The system was patented two years ago, and interest in the new sustainable technology is increasing rapidly worldwide. The new system was first installed in 2008 on the seismic research vessel Sanco Star and has since been delivered for her sister ship, Sanco Spirit.

The 90-ft purse seiner Harto was the first fishing vessel to take the system into use, and recently the purse seiner Stokke Senior was the second fishing vessel to install the system.

We recently signed an agreement with Norinco in Mombay, India. Our representative has 10 offices in different locations in India. We are also in the process of signing a similar agreement in Italy, and are investigating the possibilites on other continents as well " said Slettevoll. In Denmark a shipyard has entered into a co-operation with the Danish Ministry of Fisheries, where STADT's propulsion system is a part of the project plans. The new STADT STASCHO technology provides documented less emissions and Slettevoll believes that with proper use, emissions can be reduced by up to 80%.